A year and a half after her shocking diagnosis, Jeanette Lee is still battling — and winning.
By Mike Panozzo
It's a typically warm, sunny spring afternoon in Tampa. Jeanette Lee and her sister Doris are negotiating the aisles at Kotobuki Oriental Market, a small Asian grocery store that stocks mostly Japanese products but has a smattering of Korean specialties as well.
Doris Lee, a post-doctoral researcher in Hong Kong who has spent nearly three months in Tampa with Jeanette, is focused on her shopping list for tonight's dinner — a Korean-centric lineup of fried whole Atlantic croaker, kimchi, and stew with tofu. At 52, Doris is two years older but slightly smaller than her famous sister. She scours the shelves for Kokuho Rose rice, Kim nori seaweed, soybean paste, scallions, and Korean snacks. Doris has a list and an agenda and is not one to waste time.
Meanwhile, Jeanette, wearing a black cold-shoulder top and blue jeans, is wandering the store fiddling with bric-a-brac (small ceramics, mugs, tea pots, etc.) and contemplating various flavors of giant chocolate bars. She eyes a few options and fills her hands. She insists the ceramics are necessities for the house and the chocolate bars are for her daughters Cheyenne, 17, Chloe, 12, and Savanah, 11, but Doris isn't having any of it.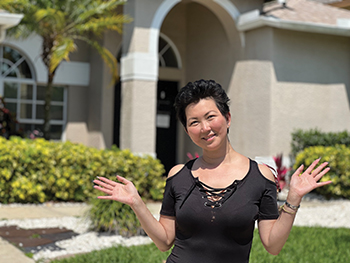 "No!" Doris playfully scolds, as Jeanette tries to sneak a handful of Korean chocolate bars into the shopping cart. "You don't need these and neither do the kids!"
In typical younger sister fashion, Jeanette folds her arms and pouts, her lower lip jutting out far enough to land an airplane on.
Jeanette grudgingly returns the items to the shelves, but only temporarily. The scene plays out several more times during the visit, much to the amusement of the elderly Asian woman behind the cash register. In Korean, she tells Doris that she can tell the two are sisters, more by their actions than by physical features. Doris rolls her eyes and laughs.
Doris relents, allowing Jeanette to add two mugs (not four, as was Jeanette's hope) to the cart.
("By the way, Chloe and Savanah absolutely loved the teacups!" Jeanette would confirm later.)
Their shopping complete, Doris and Jeanette climb into the car and head home.
It's already been a busy day for the sisters. It started with a visit to the Physician Partners of America — Pain Relief Group to have Jeanette's pain management regimen assessed. The small suite amidst several medical offices is just minutes from Lee's home, and her pain management doctor, Dr. Mauricio Orbegozo, is delighted and impressed by his patient's current self-evaluation.
"I told him my pain level is about three," Lee says. "Not too long ago it was nine."
Orbegozo makes minor adjustments to the amounts and strengths of Lee's medications and sends her on her way.
As the car pulls into the driveway of Lee's home — a tasteful, taupe and white stucco Spanish mission-style four-bedroom ranch — the pool legend ponders the day's biggest decision.
"What should I do with my hair?" she asks. "Should I let it grow out long again, which is the classic Black Widow look? Or should I cut it really short again like it was after chemo? Right now, it's kind of in no man's land and I don't really like it."
She pauses for a few seconds, checking herself in the mirror on the back of the passenger side visor. She runs her fingers through her jet-black hair, tugs at it a bit and smiles.
Jeanette Lee can afford to smile. Today's dilemma is a far cry from the decisions she faced over the previous 15 months, a period during which she was diagnosed with Stage 4 ovarian cancer, endured months of chemotherapy, battled depression, had an emergency laminectomy (the result of a mishap in her motorhome) and found improbable relief through a "healer."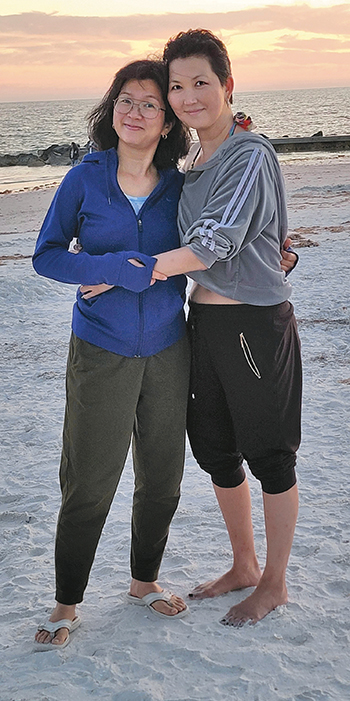 Doris (left) was every bit the older sister, keeping Jeanette in line and decluttering her office.
"The actual diagnosis of having Stage 4 ovarian cancer feels like it was ages ago," Lee says.
As has been well documented, Lee was diagnosed in January 2021. The cancer was so advanced that surgery was out of the question. Her oncologist, Dr. Uday Dandamudi of Florida Cancer Specialists, said the cancer had to be attacked and reduced before any surgery could be considered.
"I remember seeing the initial PET scan," she says, referring to a scan that uses a radioactive drug to illuminate areas of the body where cancer cells are active. "I thought it would just be here and there, but I was lit up like a Christmas tree."
Staring down the barrel of a prognosis that made the prospects of even seeing 2022 seem unlikely, Lee withstood six months of intense chemotherapy and surgery to remove her uterus and several masses. She battled pain, fatigue, nausea, hair loss and plenty of doubt.
"I was so beat up, I could barely get out of bed," she recalls. "I went back and forth between depression and believing I could fight this and beat it."
Helping her bounce back from the bouts with depression was an outpouring of love and encouragement from friends and fans all over the world. Thousands of letters, emails and posts on social media overwhelmed Lee.
Additionally, a GoFundMe campaign to help Lee plan for her children's futures generated an astonishing $300,000 in donations.
"I felt like I've been carried through this by so many people that genuinely care," Lee says. "The letters and cards and emotional response were amazing."
Throughout her monthly rounds of chemo, Lee made the 40-minute trek to the cancer center twice a week, where Dr. Dandamudi checked her blood work and monitored her progress.
Several weeks after her final treatment in late June, Lee and her boyfriend Gene Allen went to see the oncologist for an analysis of her post-chemo tests. Based on encouraging signs during the process, Lee entered the doctor's office with only one thing on her mind: hearing the word "remission."
"We were sitting there, and the doctor says, 'Look at what you've accomplished. Look at these numbers. Do you remember where you were when we started?
Your markers (measurable indicators to assess the cancer cells in a patient's system) were over 1,000. Now, we're at 12. Anything less than 10 is deemed normal,'" Lee recalls.
Jeanette liked what she was hearing but continued to press for that magic word. "I had been through six months of chemo and surgery," she rationalizes. "I was putting in the work. I was weak and nauseous, but I was fighting. And they were so encouraged."
Finally, Dandamudi said the word, but it was not used in the way Lee had prepared to hear it.
"You are not in remission," he started. "I know you were hoping for remission, but this is as close as you're going to get. You will probably never be in actual remission. And you will always be Stage 4. But you can't pray for much better than where we are at right now."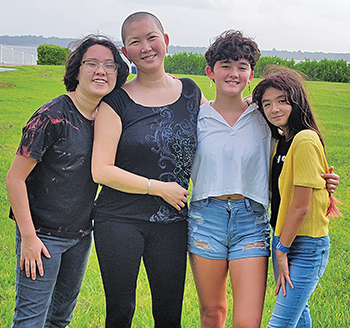 Jeanette cherishes her time with daughters (l-r) Cheynne, Chloe and Savanah.
Lee barely remembers the words that followed "remission."
"At that point, I mentally checked out," she admits. "It was a gut punch. I guess I wasn't as prepared as I should have been. I thought that once I went through chemo the cancer would be killed and I'd be in remission."
What's more, Lee felt like she'd let down all those who had prayed for and encouraged her.
"I wanted so much to tell them that their prayers healed me," she says. "I wanted to celebrate with everyone. Instead, I had to tell them I made it through chemo, but I'm still Stage 4."
Consumed by confusion and disappointment, Lee buried herself in her bedroom. "For the first few days I was just numb," she remembers. "I don't remember thinking about anything. I was just depressed."
It wasn't long, however, before Lee's daughters took matters into their own hands.
"My girls were only going to put up with me like that for so long," Lee laughs. "They dragged me to the dinner table, and we took it one day at a time." Lee is philosophical about her self-pity.
"Sometimes life hits you so hard that it knocks you to the floor," Lee says. "If you just want to sit there for a while, that's okay. Feel sorry for yourself if you need to, as long as you get back up and take one step, one day at a time. Sometimes just getting out of bed that first time is enough."
Despite Lee's disappointment, her doctors were encouraged. So much so, in fact, that they put her on a chemo maintenance treatment called Lynparza. The relatively new drug has been proven to keep the cancer at bay and help reduce what cancer is still in Jeanette's body. It can give patients two to three extra years. Sometimes more.
"Everything is going well," she was told. "We're very satisfied and you should be proud of yourself."
With her attitude properly adjusted, Lee soldiered on, using a cane and sometimes wheelchair to get around. Nothing, she decided, was going to keep her from doing things with her daughters.
"When I was first diagnosed," she says, "the girls were a mess. I started them on therapy so they could have someone who wasn't family or friends to open up with. In the end, though, I think they've just accepted it and have moved on. We tried to treat life as normal, and we still had people coming and going all the time."
As the months ticked by, Jeanette continued to improve, gaining strength and confidence. And in November she got her biggest boost.
"They set up a CAT scan for four months after my post-chemo tests," she recalls. "I was really anxious. It had been four months, during which all I did was go in for occasional blood tests and pain management. You tell yourself to trust the doctors' decisions. It's not always easy."
The results were even better than her doctors could have hoped for.
"Look at this!" Dandamudi said, showing Lee her original and most recent CAT scans side by side. "Last time your scan looked like this. Now look! It's almost gone."
"We celebrated with cake and pie and a big meal," Lee gushes. "I felt like now I had a new lease on life."
Heading into 2022, Lee's overall health was continuing to improve, save for chronic back, neck and shoulder issues that have plagued her for years and essentially forced her to give up competitive pool.
Then the Lee Train hit a bump in the road — literally.
"I hadn't seen much of my family since the diagnosis," she recalls. "So, we decided to drive to New York for holidays and start of the year. Doris, who I hadn't seen in years, was flying in from Hong Kong to spend time with us, too."
So, Jeanette, Cheyenne and Savanah piled into Gene's 39-foot motor home and headed north.
While cruising through North Carolina, however, Jeanette happened to be walking to the front to speak with Gene when a car cut them off and Gene had to swerve to avoid an accident.
The quick move sent Jeanette headlong into the short stairwell leading to the side door. "I've had pain my whole life," Lee said, putting the incident in perspective. "And this was pain!"
She was immediately taken to a North Carolina hospital, where attending physicians assured her that scans showed no damage.
The family continued its journey to New York, stopping first to see her closest cousin, Esther, on Long Island.
"I was still in pain, but I was thinking I'm just banged up and need rest," Jeanette says. "Things kept getting worse. I couldn't hold onto things. My knees buckled a few times, and I was losing my train of thought a lot."
Finally, Esther took Jeanette to the ER at Stony Brook University Hospital, where she was immediately admitted after MRI showed severe spinal stenosis. Emergency surgery was done to relieve the pressure.
After nearly two weeks in the hospital, Lee was released. And it was during her time in New York convalescing that the tide changed in her favor.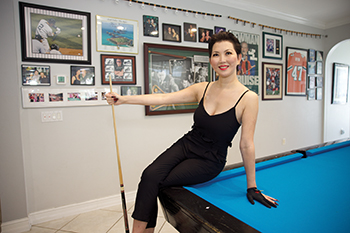 The popular Lee's pool space is adorned with autographs and photos with various celebrities. (Photo by Warped Vision Photography)
"I was staying with Esther, who's like a sister to me, and her husband, Jin," Lee says. "Jin is a criminal lawyer, but he is also a preacher in Korean churches in New York. He has become friends with a healer who prays for people, and much of the time the people get better. This man accepts no money and wants recognition. Jin suggested I speak with him.
"I thought, 'What's the harm?' I'm relatively skeptical in general, but I truly believe there is a God. And I also believe that miracles happen."
During the course of a simple phone call, I told him that I could not turn my neck from side to side and could barely move it forward and back. He told me to put my hand on my neck and close my eyes. He prayed and asked God to take away my neck pain. I was expecting a long, profound request, but it was simple and only took a minute or two."
Following his brief prayer, Lee said the healer told Lee to move her neck.
"Right now?" Lee responded.
"Yes."
"I'm thinking, 'Let's see how I feel tomorrow," Lee says. "He said, 'No. If He's going to heal you, it's going to be right away.'
"I was scared because my neck was really hurting. I started moving my head and bending my neck, all the while waiting for the pain to kick in. Instead, I kept moving it and moving it. It went all the way back and all the way forward. I felt absolutely no pain."
As if to prove her point, Lee, sitting at her kitchen table three months later, begins rotating her neck and bending it forward and backward.
"If you stick with God and keep him present in your life, you will be okay," the healer told her.
Immediately, the healer said, "What's next?"
Lee told him about having Parsonage Turner Syndrome, a neurological disorder that triggers rapid onset severe pain in the shoulder and arm.
"I've had that for eight years," Lee adds. "It's constant and sometimes extends all the way to my fingers. And over time, my arm has gotten weaker and weaker, to the point where I can't raise it above my shoulder."
Again, the healer told Lee to put her hand on her shoulder while he prayed.
"I started to lift my arm and it just kept going," Lee insists. "Gene was there, and he was freaking out."
Again, Lee puts her newly healed arm on display, making concentric circles and raising it straight over her head.
"It was crazy," Lee says. "It was a miracle."
Equally miraculous, over the past three months, the news has continued to get better for Lee. Her cancer markers continue to improve. She's continued to get physical therapy to increase strength and mobility. She still gets achy and fatigued when she pushes her activity limits, but there is no slowing down the Black Widow.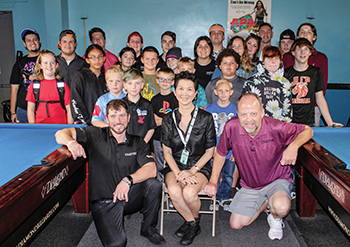 Lee (with instructors Joey Gray, left, and Jeremy Jones, right) was back in action in Jacksonville in early June, offering her support and instruction at a juniors event.
"With the neck and shoulder pain gone, I'm playing more pool than I've played in five years," she admits.
She has participated in several tournaments and recently finished working a juniors' camp in Florida with instructors Joey Gray and Mark Wilson.
"We'll see how much pool I try to play," Lee cautions. "Am I really trying to become world champion? Is there going to be a point to getting back to the table? Because I need more than just doing it to hit balls."
Lee motions over to the pool table in what might normally serve as a family room just off the kitchen. The table is hidden by a black vinyl cover, with bins of memorabilia stuffed beneath it. More bins are stacked in front of a sliding glass door that leads out to the inground pool.
As is the case with most pool champions, shelves display trophies earned over the years, and the walls are adorned with photos. Being the transcendent star that Lee became, her framed photo lineup is impressive — Jeanette with Billy Jean King; Jeanette with football's Jim Kelly; Jeanette with Olympic track star Jackie Joyner Kersey. There's Wayne Gretzky, boxer Pernell Whitaker and Larry Bird. And, of course, there are signed photos of her closest sports celebrity friends, football stars Reggie Bush and Edgerin James and race driver Tony Stewart, all who were significant contributors to Lee's GoFundMe campaign. The James photo is inscribed: "To Jeanette. The student misses the teacher."
Pool may play some role in Lee's future, but for now she would prefer to focus on what to do with her new lease on life. And those decisions are not as easy as they might sound. She teeters between wanting to be responsible and plan for what may be inevitable and wanting to grab her girls and enjoy every day to its fullest.
"It's a constant struggle," she admits. "You have to find balance between being realistic and planning for things down the road.
"Part of me thinks that If I only have a year or two, let's go make memories. It's not going to happen if we stay home, which is what we've done for the last three years.
"At the same time, I plan on being around and I'm as strong as anyone when it comes to will power. But what if that's not enough and it's my time to go? In that sense, I need to be prepared. I know I need to get finances in order, figure out who is going to take the kids, my will, my house. All that."
There is also the psychological tug-o-war that goes on during the decision-making process.
"During those moments when I'm preparing for the worst," she admits, "I feel like I'm betraying the idea that I'm strong enough to fight through this and that God will carry me through. Do I have faith, or don't I have faith?"
Lee also struggles with her own brand of "survivor's guilt."
"I know that people aren't disappointed that I'm doing well right now," she says, sheepishly. "But I feel a little guilt because all the efforts and donations that everyone has put forth are allowing me to make these decisions and do these things without working. Part of me feels that if I'm well enough to work, I should work just like all the people who supported me do."
Jeanette bounces back and forth, trying to figure the right path forward. Inevitably, all roads lead back to her daughters.
"I want to do things with my girls," she says. "But I also want to prepare them. Do I do that now? Or do I wait until the cancer comes back and then have those conversations? Is that when I make all the "Open when…" cards and videos? Open when you graduate; open when you get married; open when you have your first child; etc."
Between her businesses (Jeanette Lee, Inc., and her American Poolplayers Association franchise) and three daughters, Jeannette has plenty to juggle. Thankfully, particularly during the past 15 months, longtime player/friend Julie Hunter has lived in the Lee household for the past three years. And a large part of sister Doris' time with Jeanette has been spent decluttering 30 years of memories, keepsakes, and paper from the converted garage space.
"I want time with my girls every day," Jeanette assures. "I tend to sleep in, especially since the diagnosis. Normally, I tell them not to wake me. Invariably, Chloe or Savanah will come in and softly call my name until I wake up. Then they'll ask, 'Do you know where my pink hairbrush is?' Now I realize how precious every moment with them is. I don't want them to have a single memory of wanting to talk to me and me shooing them off."
No sooner do the words leave Jeanette's mouth than Chloe and Savanah bound through the kitchen. They tease each other playfully. Savanah heads directly to the refrigerator to cobble together a snack. Chloe is trying to get her mother's attention about her new gym shoes.
"Chloe's shoe size is the same as mine now," Jeanette says, shaking her head. "She's always wearing my shoes."
The next interruption is just moments away, when Cheyenne, a voracious reader and aspiring writer, head buried in a book, meanders across the room.
"Have you cleaned your room, Cheyenne?"
Again, Jeanette rolls her eyes and gently shakes her head.
"I feel like I need to speed up my parenting."
It hasn't been easy over the past year, and there are no guarantees going forward, but it's been a pretty good day for Jeanette Lee.