One of the biggest upsets in modern pool history highlights contrasts in pool that remain a part of the conversation to this day.
By Nick Leider
In its storied history, pool has constantly wrestled with a duality in its nature that persists to this day – you can have a black-tie affair with the world's best players dressed to the nines in tuxes and gowns, while those same folks will find a nearby (and out-of-the-spotlight) locale to put thousands of dollars down on any and every type of match.
This was the contrast explored in "The Color of Money" – and what made Mosconi versus Fats so entertaining before that – and what makes the public and private lives of Ralph Greenleaf so compelling. More recently, you can look at the Derby City Classic as the spiritual descendant of the hustlers' jamboree, while highly produced world championships aim for a refined, professional, classy final product.
Back in 1979, as pool was moving away from straight pool and toward 9-ball, and the cash crazy events of Johnston City were a memory, the 9-Ball World Pro Am in Las Vegas aimed at creating a more free-wheeling style of tournament, all while including the world's best players.
The 254-player event proved to be a display of contrasts – and produced one of the biggest upsets in the history of the modern game. Warren "Monk" Costanzo, a professional blackjack dealer and sometimes-pool player from Reno, Nev., picked up his well-rested cue and shot his way through the event to top reigning world champ and all-time great Mike Sigel – in no other way than dropping the 9 on the break in the case game of the championship.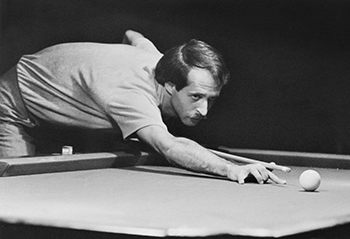 Sigel, the game's best player, was a heavy favorite.
But the idea behind the Pro Am, according to its promoters Richie Florence and former NFL player Mike Battle, was exactly this kind of matchup. The idea, according to Battle and Florence, was to hold a huge event with a format designed to give the lower-level professionals and regional sharpshooters a puncher's chance against pros like Jim Rempe, Nick Varner and Allen Hopkins. By evening the odds a bit, they figured hundreds (or even thousands) of players would gladly pony up the $600 entry fee to create a massive prize pool that would help bring pool into the big time.
The tournament was set to be held on 8-foot bar tables with each match a best-of-three sets, with each set a race-to-3. Oh, it was also single elimination. Catch a few rolls, the idea was, and Joe Schmoe could send Keith McCready packing. But the economies of scale in pool hardly work out like they do on the back of envelopes or bar napkins. The field fell well short of expectations, topping out at 254, leading the promoters to halve the prize fund before the first lag. Still, with $127,500 in the purse, there was plenty to play for – including a top prize of $25,000.
While the event never blossomed into what promoters had hoped, the 9-Ball World Pro Am certainly lives on in the memory of its two finalists.
Speaking of contrasts, Sigel and Costanzo shared little in common when they stepped to the table in the Tropicana tennis pavilion. At the time 26 years old and on the verge of a dominant run that would extend through much of the 1980s, Sigel had loads of personality, confidence and generational talent, while Costanzo was a part-time player who approached the game with a mild-mannered stoicism that explained his nickname of "Monk."
"I was dealing poker at the MGM [in Reno, Nev.], and I heard about this tournament in Vegas," recalled Costanzo, now 82 and retired in the Biggest Little City. "I hadn't played pool in three years, but I thought I'll just take a vacation – have some fun and see some old friends. You know what I mean?"
A talented player, though perhaps never quite a top-tier pro, he had played pool as a way to matchup for money in the past. He'd give tournaments a shot here and there, even winning the Las Vegas-based Showboat Open in 1976. But a lack of action around Reno left Costanzo with little else but to concentrate on other endeavors–that was, until he heard about the World 9-Ball event.
After a few days of practice to try to rediscover his stroke, he ventured to Las Vegas and found a game with an up-and-comer from California to get in some competition.
"The night before the tournament, I ended up playing some guy from Modesto who was a very good player – Kim Davenport" Costanzo said, without adding that that player would find his way into the Billiard Congress of America Hall of Fame a few decades later. "I started hitting the balls pretty good, so I felt good [considering] I hadn't played in so long."
The next day when the one-and-done tournament started, he continued to gain confidence as he managed to stay alive in a field that was narrowing into a murderer's row of top talent.
"Every match, I got to play a better player and then a better player," he said, while defeating Cole Dixon, Ronnie Allen and McCready. "I had a bad feeling, you know, that this couldn't last forever."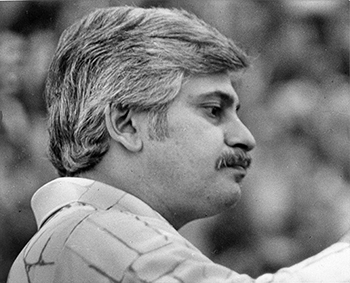 Costanzo just wanted to "see a few old friends."
But a victory in the semifinals against Jim Rempe meant Costanzo knew it would end after his next match–with him either winning the event or settling for a runner-up prize of $10,000.
"I remember calling my wife after [beating Rempe], saying I had second place guaranteed. That I was in the final," he said.
There he'd meet Sigel, who narrowly escaped being written out of the story of the World 9-Ball Pro Am before it barely began. Facing a "stone sucker who couldn't play at all," he nevertheless dropped the first set, 2-0, and then watched as his no-name opponent is two balls from victory in the second.
"He's got a shot you couldn't miss if you close your eyes," Sigel said of the penultimate 7 ball. "He's shooting with his back to me, and I start laughing to myself. I started unscrewing my cue."
But the would-be giant-killer fumbled the straight-in shot – giving Captain Hook a chance at life. From there, Sigel rolled through the field as expected. A hefty favorite in the final, he caught some additional assistance thanks to a few tweaks to three changes in format. The championship would be on a 9-foot table, with the sets extended to races-to-4 and winner breaks – all theoretically favoring the better player.
"Everyone in the joint was laying 4-to-1 on me," Sigel said, though contemporary accounts claimed he was a 7-to-5 favorite. "I used to give [Costanzo] the 7. But, I mean, he played good and was in stroke, but yeah."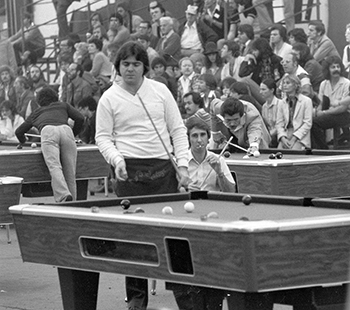 Big money drew stars like (left to right) Hopkins, Varner and Hubbart.
Costanzo didn't necessarily disagree in his recollection of the pre-match atmosphere.
"He was a four- or five-to-one favorite," he said. "He was the best player in the world! I thought to myself, 'Well, I made it this far.'
"It would have been good enough for me to come in second, you know, but I didn't have any pressure on me. All of it was on him." Sigel took the first set, 4-2, only to have Costanzo bounce back with a 4-3 win in the second. The $25,000 title – just over $96,000 in today's dollars–came down to a race-to-four. On the hill, 3-2, Sigel worked his way into position for the 8 and 9, which were lying in an awkward position along the long rail. He cut the 8 into the corner, but the cue ball was slowly rolling toward the side pocket.
If it stopped short with an angle on the 9, Sigel was all but assured of making it. If it dropped in the side, Costanzo would take ball-in-hand and force a case game. But the cue ball did neither – it stopped a quarter inch from the pocket, but the point blocked a clean look at the 9.
"I can't hit it straight on and make it," Sigel said. "I might not be able to see the edge. But the best I could do was play the 9 to the middle [of the short rail] with the cue ball on the other side of the table at an angle that doesn't go."
Sigel played safe, leaving the cue ball near the headrail, with the 9 five or six inches off the other end rail and a diamond and a half from the pocket.
"I got up from [my stance] and said something about how tough a shot it was," Costanzo said. "It took a lot out of me to focus."
"And he gets down with one stroke," Sigel said, "with one stroke he rolls it real slow. He cuts it in as pretty as you please."
The crowd in the Tropicana erupted – with that thinly sliced 9, Costanzo forced a championship-deciding rack with him having the break. Sigel, meanwhile, can't believe his luck and can't hide his incredulity. But just when he had time to remind himself it's still 3-3 and anyone's title, Costanzo breaks open the final rack.
"I was sitting in the chair in the corner right where the 9 goes," Sigel said. "And I don't even think he hit 'em good, but I see the 9 rolling right toward me. All the balls are criss-crossing all around, and I watch the 9 just go in."
With a 9 on the snap, Costanzo finished off the third set and took the match along with the $25,000 first prize.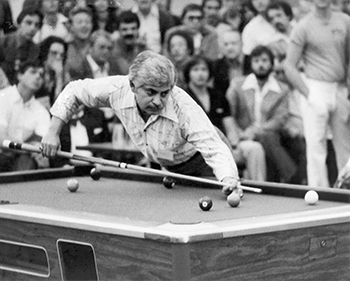 The format gave lesser players like Costanzo a shot.
"Oh my God," he recalled his reaction at the time. "I don't even know what happened. The crowd came running around the table. People were jumping up and down. It was something else."
Not every person was so thrilled.
"It was just cold-blooded," Sigel recalled. "You know, if there is a God, he said, 'You know, Mike, you're playing to win too many tournaments. No matter what you do, you're not going to win this one.' That's what I felt."
The study in contrasts didn't end with that match, though. The career-defining victory and a hefty payday didn't change life for Costanzo, who went back to dealing blackjack at the MGM in Reno. He continued to play in some regional events and liked action when he could find it in the ensuing years, but the victory didn't make him think he should give top-tier professional pool a go.
Sigel, meanwhile, didn't let the heartbreak get to him – too much at least. He went on to become perhaps the most dominant player of the 1980s, a golden era for pool with a deep and increasingly international talent pool. Heck, by 1989, just a decade later, he'd be the youngest inductee into the BCA Hall of Fame.

Today, Sigel (left) and Costanzo (right) can still recall every detail of their epic encounter.
But for a career full of hardware, Sigel still points to the World 9-Ball Pro Am as one that got away – even if it provided a little fuel for his fire.
"To this day, it still burns my ass," he said. "I mean, I was devastated for a month or two, and it still aggravates me to this day, but it didn't affect my play.
"In 1979, that's when I really started winning. If anything, it probably made me more – I don't know what the right word is. It made me like a killer. I wanted to destroy guys. I took nothing for granted after that."
And for the guy nicknamed Monk? His perspective on it all is pretty simple, philosophically.
"You got to get a little lucky and win one of them," Costanzo said. "And I had a little luck."