Romance and run-outs are all the rage in pro pool circles. Pool's top power couples reflect on meeting, dating and the pros/cons of their joint professions.
By Keith Paradise
Aloysius Yapp will never forget it. He was at a tournament in Malaysia in 2017 when he noticed a beautiful young player competing in the women's division. The player was Indonesia's Silviana Lu. Yapp was so smitten with Lu that he was rendered tongue-tied, unable to say a word.
"I didn't say anything to her because I was too shy," said Yapp on a phone call while the two were in Singapore last month.
"He's a shy boy," Lu could be heard saying in the background. In fact, Yapp went an entire year without uttering a word to Lu. Then he learned that she would compete in an event in her home country, and he decided to make the trip and compete in the men's division. With a mixed doubles event coming up in China, Yapp's grand plan to break the ice was to ask her to be his partner in the mixed doubles tournament. But when he arrived in Indonesia, Yapp learned that the women's division had already been completed and the competitors had returned home. Luckily, another player had Lu's number, which he gave to Yapp. The two finally met up at the Southeast Asia Games in the Philippines in 2019.
"It only took another year to finally talk to her in person," Yapp confessed, embarrassingly.
His patience paid off, with the pair hitting it off from the start. They officially became a couple around Valentine's Day, 2020 – just weeks before the COVID-19 pandemic sent them both home and into lockdown for two years.
"Just my luck," he thought.
Former World 9-Ball Champion Joshua Filler, on the other hand, showed his interest in future wife Pia in a quicker and much more direct manner, planting a kiss on her during a training session at a pool facility in their native Germany.
"I mean, always, just do it," said Filler as he recalled the moment. "It's like what Nike said.'"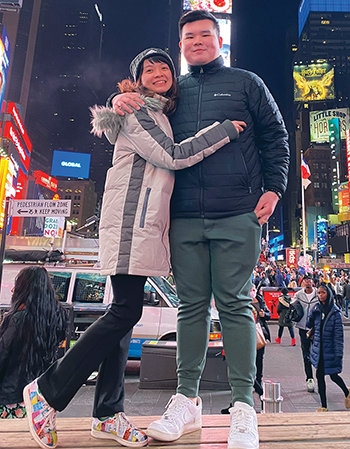 Indonesia's Lu and Singapore's Yapp stay connected via video chats.
Professional pool players pairing up romantically isn't anything new, but the number of pool couples – particularly couples in which both are top-level professionals – has never been more apparent. Some of the players wound up together the old-fashioned way, with familiarity after years of training together and traveling to the same events drawing them closer, while others found each other through more contemporary methods: using messenger and social media like Yapp and Lu, and Tyler Styer and Margaret Fefilova Styer.
Dating or marrying a fellow professional player obviously has its advantages and disadvantages, most notably the empathy that should come along with any connection. No one must explain to a significant other why he or she is spending so much time in the poolroom practicing or traveling throughout either the United States or the world competing in tournaments. After a defeat, a companion who is also a competitor will know the correct amount of time to leave the player alone before engaging in any conversation and will usually know what to say and what not to say. Lastly, and quite possibly most importantly, neither ever has to defend his/her obsession with the game because, usually, their companion will have a similar Velcro-like attachment to the game.
"I'm lucky that she understands what I'm doing," said former World 9-Ball Champion Fedor Gorst of his girlfriend, fellow Russian Kristina Tkach. "Imagine having a girl who doesn't understand what pool is and doesn't understand why all I do is travel."
In the case of Gorst and Tkach, the pair have known each other since they were small kids, practicing together in the same Moscow poolroom as part of the Russian junior squad and competing in the same events throughout their native country and Europe. Gorst was drawn to her first, frequently peppering her with text messages throughout their youth, but Tkach always looked at him more as a younger brother. They developed a close friendship throughout their teenage years and early 20s. Tkach spent a couple of years single after some long-distance relationships. Gorst briefly dated a Russian pyramid player. After the COVID-19 lockdown started to lift, the two old friends reconnected, and something changed in Tkach's mind: Gorst had grown up – literally and figuratively.
"I went from looking at him like my little brother to looking at him like a man," she said.
Their official "first date" was a trip to the U.S. in early 2021, as they barnstormed their way across the country in challenge matches and small regional events as professionals awaited the return of larger-scale, bigger payout tournaments. Neither Gorst nor Tkach, both of whom have always exhibited maturity well beyond their years, entered into the relationship hastily, discussing a plan for their relationship and what it should look like.
"We talked about boundaries that we should set up," said Tkach. "We didn't want to destroy our friendship just to have some fun."
A year later, when the professional calendar was beginning to fill up with events again, the couple was struck with more adversity when Russia invaded Ukraine, resulting in a six-month ban of Russian and Belarusian competitors in World Pool-Billiard Association (WPA) events, as well as the World Games. The couple learned of their ban while attending the European Championships in Lasko, Slovenia, and quickly decided to fly back to the safe, familiar environs of the United States, where they again went back to traveling the country and playing in regional events. The couple went from dating and maintaining separate residences in Moscow to becoming roommates immediately upon arrival in America.
"It's what I wanted from the beginning," said Gorst. "It just happened quicker than it should have."
Which means they've had to learn each other's idiosyncrasies practically overnight at a time when Tkach occasionally struggles with being cut off from her family. (Tkach recently returned to Russia to see her family for the first time in a year.) Gorst is a little more easy-going, which provides someone for her to sound off to while he also feeds the drive to keep going to the practice room. As they set up their home in southern Indiana, Tkach handles more of the cooking and domestic chores, while Gorst offers his expertise on practicing or financial matters.
"We've worked through a lot of things and have really good communication and if something is bothering me…" she said.
"We figured that part out," Gorst deadpanned, drawing a laugh from Tkach.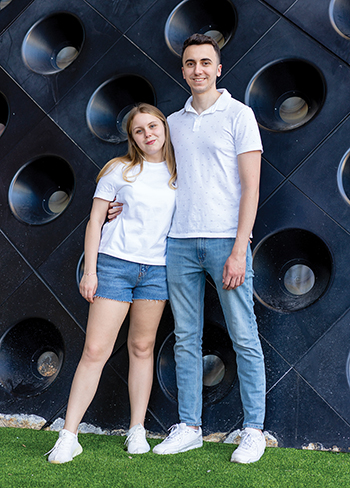 Tkach and Gorst spent time discussing how their relationship would best work.
As the Russians paired up and moved in together as much for necessity as much as attraction, Styer and Fefilova wound up together under somewhat similar circumstances but in a much less conventional way.
They had originally met at the 2019 China Open at a frigid opening ceremony when Styer noticed the Belarusian in shirt sleeves and rubbing her arms to the 60-degree venue to try to stay warm. He offered his puffy winter jacket – the second player to do so during the ceremony. She declined both offers.
"I was thinking, 'Typical American, trying to hit on a girl,'" recalled Fefilova.
"I wasn't hitting on her though," he said. "She was literally standing there rubbing her arms and waiting to go on."
When the COVID-19 pandemic locked down the world and professional competition was reduced to virtual tournaments, the two players were paired up in an online matchup. It was the first time that the American had really watched Fefilova play, and he came away impressed with her abilities. He reached out in a private message to compliment her and offer her some coaching as well. The two players developed a rapport through video training sessions and, over time, a relationship, so much so that he traveled to Belarus to meet her in January 2021. With a vaccine still not available and firm travel restrictions still in place, Styer was required to pass a coronavirus test before boarding his nonstop flight from Chicago to Istanbul and, with only immediate family allowed into Belarus, Styer lied and said he was entering the country to visit his girlfriend.
Although they weren't technically dating when he arrived, Styer spent the month in Belarus at an Airbnb he had rented. It didn't take particularly long for the bond that had already been formed to strengthen, starting with sharing their first meal together at a cafeteria that overlooked a skating rink. She showed him her country and introduced him to her family. To say that they clicked would be an understatement, going to the gym and practicing three-to-four hours a day.
They even experienced COVID together, contracting the virus from Fefilova's family and not being able to taste or smell anything for a week.
"We ordered Chinese, and I tried wasabi and I couldn't taste it," said Styer. "That's the true COVID test; when you can't taste wasabi."
They were engaged soon thereafter, breaking the news to her parents one evening. Fefilova's parents were elated, and they all set to find a restaurant to celebrate. When they found all of the sit down establishments were closed, they ended up breaking open a bottle of wine after a trip through the McDonald's drive through.
"It almost sounds like Joshua and Pia," said Fefilova, referring to the Fillers and Joshua's well documented love of the fast-food chain.
Much like Gorst and Tkach, the Russian invasion of Ukraine and the subsequent banning of Belarusian competitors hastened plans for Fefilova and Styer. He was back in America by now and she was preparing for a EuroTour event. When news of the invasion quickly spread, Styer tersely told his fiancé to skip the event and head to America as soon as possible. She was in Chicago a couple of days later and they were married in a small ceremony in Las Vegas last spring, with plans to eventually have another ceremony in Belarus when combat conflicts dissipate.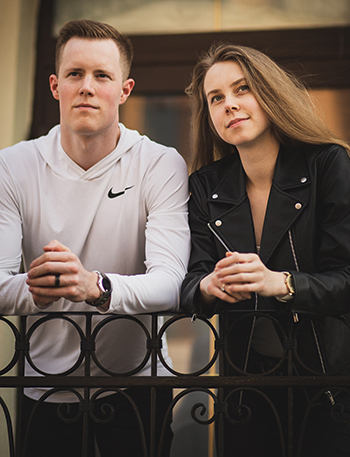 The pandemic brought the Styers together, with war accelerating their bond.
With Matchroom offering a steady supply of open events and Predator slating tournaments for men and women, Fefilova and Styer get a balance of time together as well as time apart that allows the two self-professed introverts the chance to get into a routine while the other is away. Although she has been relying on her husband for transportation, Fefilova is in the process of getting her drivers license, meaning they won't have to be on the same schedules when competing at events like Derby City Classic or the U.S. Pro Billiard Series, which can be an obstacle when one player has played a late match and the other one is scheduled to play early the following day. The biggest challenge they seem to be currently facing is who gets control of the pool table in their home for practice, with Margaret sometimes working on her game in the morning and Tyler pocketing balls into the night. In the instance that they both want to put in some work, many times they pack up and head to the local poolroom.
"It's hard," said Margaret, who, after all, met her husband through relentless practice on a pool table. "We definitely need two tables in the future."
"I think that was probably the biggest issue," said Ewa Laurance, who dated and married professional player Jimmy "Pretty Boy Floyd" Mataya in the early 1980s and became one of the first pool couples of the modern era. "There were a lot of times I would go to the poolroom during the day so I could get practice in while my daughter, Nikki, was in school and we kind of switched off."
One of the biggest differences in today's couples versus those of yesteryear is the absence of children, with the players focused on furthering their games and careers at a time when society as a whole is also settling down and starting families later in. Laurance, who had Nikki in 1985, recalled driving cross-country from Michigan to Los Angeles to drop off her daughter with Mataya's family while they continued to Las Vegas to compete. At some events, fellow men and women professional players would babysit. For Loree Jon Ogonowski-Brown, formerly Loree Jon Jones, husband Sammy Jones would sometimes stay home and babysit their child while she traveled and competed. Jeanette Lee was so elated to be a mother after years of trying with husband and touring professional George Breedlove that she took her daughter on the road with a nanny in the early 2000s.
With none of the current couples having children and none of them expecting, this allows both husband and wife to work on their games and perfect skills at the same time – a benefit that wasn't always afforded in previous eras. When Laurance and Ogonowski-Brown emerged on the scene in the early 1980s before separate men's and women's tours were formed, many times a discussion between partners would occur to determine which player was going to compete in which event. A few years later, the Women's Professional Billiards Association's Classic Tour was in full swing, and Lee had emerged as one of the top names in the game. By the late 90s, husband and tour player George Breedlove's playing opportunities were beginning to deteriorate with the dissolution of the Camel Pro Billiards Series. With Lee exhibiting rare crossover appeal in television and advertising, he ultimately devoted more time to his furniture business outside of Indianapolis while his wife remained the face of the industry.
"He understood that I was always in the limelight, and he was happy to not be in the limelight," she said. "So, there was never a competition. It was always him being very supportive."
"I think the biggest challenge is to be able to be at the top of your game, you have to be selfish," said Laurance. "If you have a relationship where the other person has their two feet planted on the ground and is home and the other person is traveling, that puts a strain on you, too."
When the pandemic shut down the industry, the Fillers had a similar talk and Pia considered giving up competitive play to focus more on Joshua's career and their brand.
One of the most well-known couples in the game today, Joshua and Pia entered the scene half a decade ago when Joshua won the China Open, then added the World 9-Ball Championship and U.S. Open 9-Ball Championship titles in subsequent years. By his side through all of these conquests has been his bride, whom he married in 2017. A competitive player in her own right, Pia had also already taken on the role of social media manager and travel agent in order for her husband to be able to focus on his game more. With the pandemic shutting down tournaments and the couple having access to the training facility, they worked on an improvement plan for Pia, with Joshua coaching her during joint training sessions. The strategy was a personal sacrifice for both competitors, with Joshua taking time away from his game to focus on his wife's improvement, while Pia worked to handle her husband's sometimes strongly worded constructive criticism.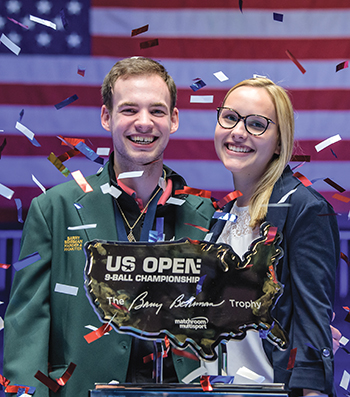 While Josh is the playing star, Pia manages their lives and still finds time to win.
"I just told her straight away she's not really good in certain things and from there I was thinking about how we can improve her game," said Joshua. "I found some ways and I took a lot of time on it."
"Of course, it hurts because you know it's the truth," Pia said. "And he was so straight, which I actually appreciate and now I know it was the best way for me. We made the commitment that once we enter our practice room, it's not husband and wife. I'm the student and he's the coach and I have to listen to what he tells me."
The proof of improvement is in the results, with Pia winning the Women's 8-Ball Championship and finishing second in Striaght Pool as the 2022 European Pocket Billiard Championships. She also earned top honors at the Predator Slovenia Open and finished in the top five at a Medalia Light Puerto Rico Open.
"I feel like I can definitely win one of the big events and now we just have to see how things go," said Pia.
Lu also credits her recent reunion with Yapp after the pandemic lockdowns in Asia expired and their recent practicing sessions with improving her game.
They usually end each night with a video chat. On a recent trip to Singapore, Lu tagged along with her partner for one of his daily six-to-eight-hour practice sessions and saw up close Yapp's commitment. After a few hours, Lu suggested they go get a bite to eat and Yapp said he just wanted to play "a couple more racks." A couple of hours later, he was ready for that meal. At this point, the only parts of Singapore she's really gotten a good look at on her visits has been the practice room.
"I saw that he is giving everything for this game," Lu said. "This is a pro player who is giving everything for his job."
While together in Singapore, Yapp, the 2021 U.S. Open runner-up, gave Lu instruction on her fundamentals, changing her grip and her stance. Lu went home and worked on what she had been taught and the video chats started to be as much about sharing pool knowledge as general conversation.
Again, the collaboration produced results. Lu finished fifth at the Medalia Light Puerto Rico Open and placed in the top four at March's Alfa Las Vegas Open, the highest finish in a women's professional event of her career.
"I'm starting to feel like a professional player," said Lu. "He's motivated me more about this game."
"I do feel like she's improved a lot," said Yapp. "I taught her a couple of things and she practiced them when I wasn't around. She's starting to play better and better each time."
With pool's present pairings all in their early 20s, Ogonowski-Brown speculated that all of these current couples could remain together and competing at a top level for at least the next decade – unless nature has different plans.
"I just don't see anything changing for a very long time," she said, adding, "unless there's an 'oops.'"
---
Joshua and Pia Filler
Resume: Joshua – 2018 World 9-Ball Champion; 2019 U.S. Open 9-Ball Champion.
Pia – 2022 Treviso Open Champion, 2022 European 8-Ball Champion.
How they met: Traveling and competing together as part of the German junior team.
First date: Played pool, then "Call of Duty" on Playstation.
Something only you would know about your partner:
Josh about Pia, "Sometimes she's talking when she's sleeping."
Pia about Josh, "I could never leave him alone with his passport because he's going to leave it everywhere."
Tyler Styer and Margaret Fefilova Styer

Resume: Tyler – 2018 Kremlin Cup Champion, Four-time Mosconi Cup member.

Margaret – 2021 European 9-Ball Champion; 2017 Dutch Open Champion; 2017 Portugal Open Champion.

How they met: Started texting and practicing together after 2020 virtual tournament.

First date: Cafeteria in Belarus after Styer flew over to visit in January 2021.

Something only you would know about your partner:

Tyler on Margaret, "She loves crime scene movies, which scares me because I sleep right next to her."

Margaret on Tyler, "He has to get a haircut before every tournament."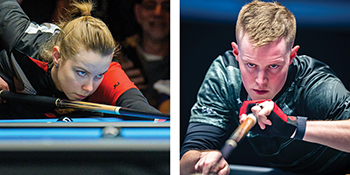 Fedor Gorst and Kristina Tkach

Resume: Fedor – 2019 World 9-Ball Champion, 2023 Derby City Classic Master of the Table.

Kristina – 2016, 2019 European 8-Ball Champion; 2019 European Straight Pool Champion; 2019 Treviso Open Champion.

How they met: Playing on the Russian junior team.

First date: A barnstorming tour of the U.S. in 2021.

Something only you would know about your partner:

Fedor on Kristina, "She sleeps on her back with her arm's crossed."

Kristina on Fedor, "If he can't sleep in the middle of the night, he has to go and take a bath."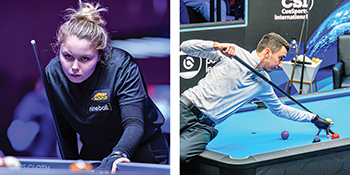 Aloysius Yapp and Silviana Lu

Resume: Aloysius – 2021, 2022 Predator Michigan Open Champion; 2022 U.S. Open Pool Championship, second place.

Silviana – 2023 Alfa Las Vegas Women's Open, third place; 2022 Puerto Rico Open, fifth place.

How they met: Yapp first noticed her at an event in 2017 and they met two years later.

First date: Went to lunch at the 2019 Southeast Asia Games.

Something only you would know about your partner:

Aloysius on Silviana, "I thought she was quiet, but she talks a lot."

Silviana on Aloysius, "He likes to sleep a lot. Sleep and play pool."