Current Issue

Previous Page Page 3 Next Page >



New Digs, Still Classic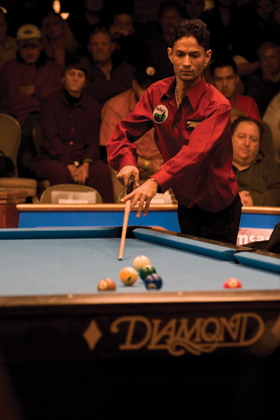 Adam Smith had a strong run in the 9-ball division for the second consecutive year. (Photo by Sam Gray)
As the 9-ball field dwindled, Pinegar and Brumback distanced themselves from the rest of the all-around hopefuls. Both were on a loss when just 14 players remained. Pinegar drew Thorsten Hohmann for the second straight round, having lost to the former world champion the round before. Brumback faced Adam Smith.

On the main table, Pinegar gutted out a tough victory against Hohmann, putting the pressure on Brumback to keep pace. On a table that butted up to the TV table's stadium seating, Brumback played catch-up throughout the match. With Smith on the hill, 6-5, Brumback faced a tough backward cut on the 9. If he made it, he had a chance to advance and hold his advantage over Pinegar. Miss it, and he'd become the biggest fan of whomever played Pinegar.

The 9 rolled toward the corner pocket, but it narrowly clipped the long rail and stayed up. Before Brumback got back to his chair, Smith, almost apologetically, buried the hanger for the win.

"I knew every match was just as important as the next, but I just finally gave out during that match," he said. "I just ran out of gas."

Moments after Brumback was eliminated, Pinegar received a bit of fortune and drew the bye in the next round. Spectators immediately turned into amateur statisticians and prognosticators, arguing whether or not the fortunate draw was enough for Pinegar to clinch the Master of the Table.

Players accumulate points for the all-around title by finishing in the top 64. The winner of each division gets 120 points, second gets 100, down to five points for 49th-64th. (If four players tie for 11th, then they split the points for 11th through 14th.) But during the round Pinegar was on a bye, only John Morra was eliminated. Had just one of the other seven players been knocked out, Pinegar would clinched the all-around title. Instead, he faced Smith in the next round. Though he didn't know for sure, Pinegar suspected he playing for the Master of the Table - and the $17,000 difference between first and second place in the all-around.

In a grinding, sometimes contentious match, Smith pulled ahead late for a 7-5 win, eliminating Pinegar by the same count he did Brumback.


Previous Page Page 3 Next Page >

Top