From death's door to a return to the game and a new business venture, Darren Appleton isn't slowing down.
By Keith Paradise
Darren Appleton was standing in front of his Dynamite Billiards booth at last month's Super Billiards Expo when women's professional player and close friend Caroline Pao came walking down the aisle towards the Hall of Famer. After a warm hug, he couldn't help but ask:
"So, do you feel like you're looking at a ghost?"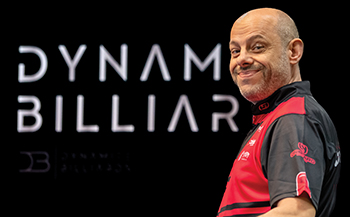 (Photo by Erwin Dionisio)
Appleton certainly hasn't lost his sense of humor after nearly losing his life four months ago when he suffered a heart attack and spent five weeks in the hospital. The four-day all-things-billiards fair in Valley Forge was the 47-year-old's first public appearance since the cardiac event. He spent the weekend taking pictures and playing challenge matches with fans and simply reconnecting with the game. No one would have faulted him if he had spent a couple of hours at the booth each day then headed back to his hotel to rest. Instead, he arrived each morning around 8 a.m. to help his assembled group to set up his retail operation then stayed throughout the day, still at the table hitting balls and signing autographs at 8:30 p.m. Saturday night.
The simple act of getting into the venue was eye-opening and uplifting for the former world champion. Virtually everyone Appleton passed in the aisles at the Greater Philadelphia Expo Center stopped him, asking how he's doing and offering words of encouragement. The walk from one end of the venue to the other sometimes took an hour. Eventually his assistants began walking behind him, weary of walking ahead of him and turning to see that he was 100 feet behind talking to a friend, fan or complete stranger.
"We were laughing when we were walking because it was like walking with a little puppy," said Kinga Rauk, Appleton's manager and inadvertent life saver. "Everyone wanted to talk to him and wish him well."
"It's been pretty amazing really, a bit overwhelming," said Appleton. "I'm still a little bit foggy, so it's been a bit mental really but I've really enjoyed it. It's like less pressure but in a different way."
As he continues to recover from the cardiac event that left him breathless and without a pulse for more than a half hour, Appleton is also slowly segueing into the second half of his career, focusing on his new business while trying to diffuse any talk about his health into a quick quip.
"It was like for the next four of five weeks I took a long nap and then I woke up and I'm just recovering from that," he asked, when he sits down for an interview.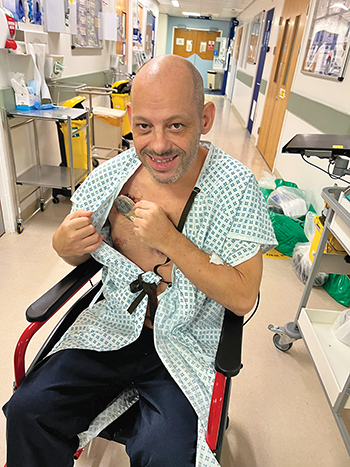 Appleton's recovery from a December heart attack has been miraculous.
Joke though he may, the truth is Appleton knows that he was dangerously close to having things break in the other direction and that he received a couple of the luckiest of rolls of his life.
The years leading up to Appleton's cardiac arrest had not been easy. He had been through a divorce, lost his mother to cancer in 2019 and, just when he was showing signs of regaining the form at the pool table that earned him a World and U.S. Open 9-ball titles, the COVID-19 pandemic brought everything to a halt. He experienced a bit of a resurgence at the beginning of 2022 finishing in the top eight at the World 10-Ball Championship and tying for ninth at the World Pool Championship. Then he was suspended by event promoter Matchroom from competing in their events through the summer after an outburst at a tournament official. As 2022 came to a close the Brit teamed with Kelly Fisher and Jayson Shaw to earn second place at the World Pool Team Championships in Austria and tied for 17th at Predator's World 8-Ball Championship in Puerto Rico.
It was there that his close friend Jason Bensinger felt something was off.
The two met at the SBE about a decade ago when Appleton talked of needing a contractor to pull permits to work on his recently purchased home in nearby Allentown, Pa. As luck would have it, Bensinger, whom Appleton affectionately calls "puppy," owned a construction company an hour away in Pottsville. He also had a young daughter who was battling cancer at the time and when Appleton learned of it, he raised money for the girl to travel to England for the Mosconi Cup in 2016. Bensinger was in San Juan in late December after spending two months with Appleton, who was complaining of headaches.
"He just didn't look healthy," said Bensinger. "He never had headaches and now he's getting headaches."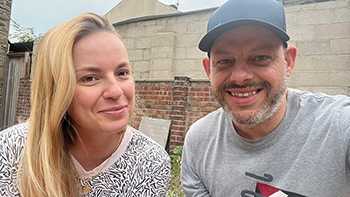 Rauk's (left) quick response saved Appleton's life.
The former World Games gold medalist traveled from Puerto Rico to the Philippines to compete on the live streaming program Sharks. As Bensinger and his wife watched on the live stream, he noticed that his friend still didn't look the same.
Although he didn't look right, things were looking up for Appleton professionally. He had teamed up with Rauk during the pandemic to create his YouTube channel, which ultimately grew to have over 30,000 subscribers and over 5 million views. With Rauk taking on the role of manager in the past year, the two launched Dynamite Billiards, a retail store selling merchandise, apparel and Tiger brand products. On December 19, Appleton was hanging shelves in his poolroom when he started experiencing chest tightness. He suggested that he thought he was having a heart attack. Rauk sprang into action. Luckily, Appleton had given Rauk directions to the local hospital before they got in the car because, as his manager drove him to a nearby hospital, he lost consciousness.
"There were many things that day that just came together and that's why he's alive," said Rauk. "If it would have been 10 seconds later, I would have had to drag him to the car and more time would have been wasted."
She screamed for help the minute she arrived at the health facility and a team of doctors immediately began administering CPR. After a half hour, physicians weren't getting a response but continued working on him because of his young age. Eventually, Appleton started breathing again and was quickly ambulanced to Leeds General Hospital about 30 minutes away. He again lost consciousness three times on his way.
Rauk called his family and Bensinger, who hopped the first flight to the U.K. When asked to describe those frantic moments, tears well up in his eyes and slowly roll down his face.
"This is basically what I did," said Bensinger as he sat in Appleton's booth. "For him to stand here and do what he's doing is unbelievable."
Doctors placed Appleton in a medically induced coma, which he was brought out of about 10 days after the heart attack occurred. With Appleton's brain not receiving oxygen for 45 minutes, there were serious concerns about memory loss. Bensinger wondered if his friend would even remember who he was. After being assured by doctors that Appleton was on the road to recovery, he returned to Pennsylvania. Then he received a FaceTime alert. He assumed it was from Rauk. Instead, it was Appleton.
"Puppy, what are you doing?" he said.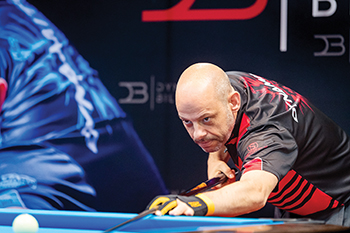 Though a long way from considering a return to competition, Appleton still has the drive to play. (Photo by Erwin Dionisio)
There was relief, but Appleton wasn't out of the woods yet. He seemed to want to make up all at once for all of the talking that he had not done while in the coma, talking about pool and asking about his dogs frequently. Occasionally he would try to pull out the tubes that were attached to his body or attempt to leave the facility to go home, occasionally making it to the elevators before he was escorted back to his room. One time, he woke up and thought he was in the final 16 of the Kuwait Open and insisted that he had a match at 11 a.m. He looked around for his cues and became irritated that they weren't in the room. Medical staff eventually calmed him down and, after an hour, he realized that he wasn't in the Middle East but was instead in the hospital.
"Since that day I think he's become aware," said Rauk.
After recovering enough to be sent home, Appleton met with the five doctors from England's National Health and Social Care System that worked on him for 45 minutes to save his life. They explained how they continued to return his body back to life but also why, that his young age was a determining factor in their decision to persist. Physicians also said that if Rauk had arrived 30 seconds to a minute later, there was little chance that he would have survived. He was emotional meeting them and thanking them for saving his life, even bringing gifts despite it being against protocol.
"I just said I can't believe what they all do, and I just didn't know what to say really," he said. "I just wanted to thank them, and I don't think they get the credit that they deserve."
After having a stent installed and using a temporary pacemaker, doctors estimate approximately 30 percent of his heart is functioning and he will be receiving a permanent defibrillator this month. A longtime smoker, Appleton hasn't had a cigarette since that day and initially dropped 30 pounds but has added about 10 back on since leaving the hospital. He can still eat the occasional order of chicken wings in moderation but is on a diet of fruits, vegetables and fish for the most part. He also has gained a new perspective on life and pool, taking things as they come more and not getting as frustrated when something doesn't roll his way.
His doctors weren't exactly keen on the idea of him boarding a plane and heading to Philadelphia for the Expo, but he had hatched a plan to have a booth of his own after seeing the success of friend and fellow competitor Jayson Shaw's booth last year. He also was looking to regain some sort of normalcy to his life, although he did have concerns about seeing everyone in the industry again.
"He was very stressed about coming here and talking to everyone," said Rauk. "I would like him to stop putting so much pressure on himself about the game because he doesn't have anything else to prove. He's achieved everything so I hope he can enjoy it instead of trying to reach goals which are not important anymore."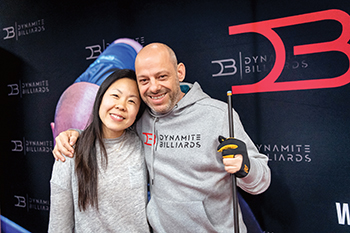 A return to the U.S. afforded countless friends, like lady pro Pao, to welcome Appleton back. (Photo by Erwin Dionisio)
Coincidentally, Shaw and Appleton's booths were next to each other and the two saw each other for the first time since the medical emergency.
"It was so good to see him," said Shaw, who divided time between his booth and playing in the professional tournament. "He's looking healthy and its good to see him back."
A week after the Expo, Appleton was scheduled to perform an exhibition with fellow Brit Chris Melling, who has been flooded with well wishes for his friend. Like Shaw, it will be the first time that he's seen him since the heart attack. Melling, who gave the introduction at Appleton's Billiard Congress of America Hall of Fame induction, learned of Appleton's heart attack from Shaw, who alerted him in the middle of the night.
"I just think he needs to take a step back and just take more time and just try to recover as much as possible," said Melling. "Because I think if he keeps pushing his boundaries then, I hate to say it, but it could happen again."
As Appleton elaborates on his future plans — the growing product line for Dynamite Billiards which should include his own line of cue sticks in the next six months, expanding back into teaching as well as running tournaments again — one thing he wasn't discussing much were plans for a comeback to competitive pool. Even before the heart attack, he was contemplating stepping back from the grind of nonstop travel and tournaments, cutting his competitive calendar from six months to approximately three. With recovery now the most important priority along with running a new business, those plans may be trimmed back even more.
"I don't worry about playing pool so much anymore," he said. "I still want to play but obviously I'm probably going to be like a semiprofessional player. I still think that I can compete at the highest level but I'm never going to be the player that I was, like, 10 years ago."