An epic final in an electric atmosphere saw Jayson Shaw claim the Hanoi Open title
By Phil Yates
Photos by Taka Wu
When a grand occasion, impeccable timing and serious star power align, sport can be unforgettable. So was the appropriately thrilling climax of the inaugural Hanoi Open 9-Ball Championship which showcased pool in a way the sport has always imagined.
Neither Jayson Shaw nor Albin Ouschan performed close to their imperious optimum, yet it hardly seemed to matter. Rather, their fallibility served to supplement drama on a night that possessed far greater significance than a simple trophy lift.
Shaw prevailed, 13-12, emerging from a recent lull on the biggest stages where he has so often excelled. The other winner, pardon the most acned cliché, was pool itself, held in such lofty regard by the Vietnamese.
Lines so lengthy they stretched almost as far as the eye could see, formed outside the National Indoor Stadium well before the semifinals broke off. Ten hours later the throng had been whipped into a frenzy, chanting, "Jayson, Jayson," as the Scot jumped on the table in triumph.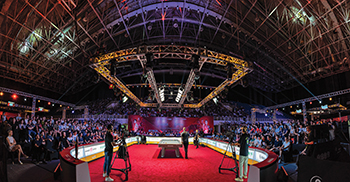 Seconds before, when the clinching 9 found gravity, the thunderous roar of the 2,000-plus audience was in danger of threatening the structural integrity of a venue that was outstanding albeit stifling due to air conditioning that did not pass muster.
At least, the weak A/C provided something to improve on next year as ticket sales and a wondrously enthusiastic Hanoian fan base with a youthful demographic will be tough to eclipse. So will a classic final that lacked nothing.
First came Shaw's perspiration, slipping to a 4-0 deficit through several errors, none more blatant than a shockingly botched 7 ball from point blank range clumsily using the bridge.
Soon, though, Ouschan was simultaneously struggling. A break and run in the seventh rack seemed to temporarily settle Shaw and when Ouschan overcut a semi-blind 8 to middle in the tenth, the Connecticut-based Scot balanced the ledger at 5-5.
The pendulum swung again in the eleventh rack. Shaw's ineffective safety on the 2 opened the door for Ouschan to regain the ascendancy and, up 10-5, the Austrian was bang on course to transform his own previously frustrating year.
Shaw was out of kilter, becoming dispirited, but Ouschan, normally such a reliable frontrunner, gradually allowed his regular European Mosconi Cup teammate back into the picture.
Greatly assisted by Ouschan's miss on a crucial 8 to move 11-8 ahead, Shaw upgraded from perspiration to inspiration, breaking and running in three of the following five racks to lead for the first time at 12-11.
Ouschan's race appeared run until pressure, that constant companion of top-level cueists, devilishly intervened. With the finish line in sight, Shaw fumbled a straightforward 5. Ouschan dished and the crowd gave both a standing ovation as they sportingly embraced pre-decider.
What happened next was gut-wrenching for Ouschan, manna from heaven for Shaw.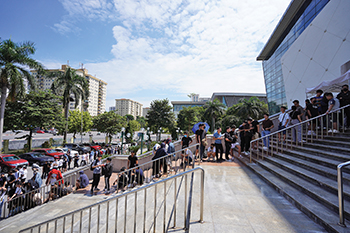 Vietnamese pool fans jammed the stadium, providing the largest, loudest crowds in an open event in years.
Although Ouschan struck his break well enough, not one but two kisses on the cue ball sent it careening into a middle pocket. Amidst a cacophony of noise, the twice World 9-Ball Champion slumped in his seat, as if felled by the force of the cruel blow fate had meted out.
His expression drained, Ouschan was right to be distraught as Shaw sparked a party by clearing.
"That scratch was just horrible," empathized Shaw, after collecting a first prize of $30,000 and being presented with the trophy by guest of honor Efren Reyes.
"This match, this atmosphere, was unbelievable, and it's something I'll always remember. We both made some bad mistakes, but I came good in the end, and I can't tell you what a massive buzz this is.
"Everyone knows it hasn't been my year. Certain things went against me at important times, but this makes up for all the low moments. Thank you, Vietnam."
By reaching the final with his 11-2 drubbing of Sanjin Pehlivanovic — never capable of bridging a chasm of main table, worldwide TV exposure and large crowd experience —Shaw mathematically nailed down his eighth Mosconi Cup involvement.
The 35-year-old, who also won the Scottish Open on home turf and the Turning Stone Classic this year, rose to fifth in the updated World Nineball Tour rankings, having filled his tank of confidence to the brim.
"What a game this is," Shaw gushed. "I lost to Aleksa Pecelj from well in front in the quarterfinals of the US Open a couple of weeks ago and felt terrible. Then I came here, got sick, all bunged up with cold, and at the end of the week Efren gives me the trophy. That's life on the tour, a roller-coaster."
The first clue to Shaw's popularity in Vietnam, a country he had never previously visited, was the sizeable gallery encircling an outside table as his campaign was launched by beating Che Wei Fu, 9-4.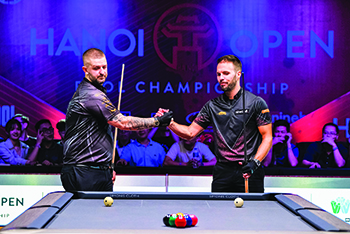 Shaw and Ouschan provided the theater, while Hanoi's passionate fans provided the adrenaline.
Shaw consolidated with wins over Jeffrey De Luna, 9-3, and Bui Truang An, 10-2, before toughing it out against Johann Chua in the last 32. Shaw led 6-1, mislaid his mojo but, from 6-6, pulled away to win, 10-6, before more comfortably overcoming Jan Van Lierop, 10-4.
That set up a spicy clash with Fedor Gorst, unsurprisingly on the receiving end of gibes from Shaw, never a shrinking violet, for his so-called Mosconi Cup defection from Europe in 2020 to Team USA this year.
While jousting between the two on social media was fun, their quarterfinal was seriously gripping. Shaw led 9-5, helped by back-to-back break and run outs, Gorst rallied to 9-8.
An intense deciding rack was on the cards but, as the shot clock wound down, and the marker called out "Five seconds," Gorst's time in the tournament expired. A testing 7 ball was overcut, the remaining three balls were sitting ducks and with Shaw already celebrating, Gorst conceded.
Ouschan felt heat from the very start in Hanoi, as a little known Singaporean, Darren Young, missed an eminently potable 7 to upset him in the second round.
Having clawed through, 9-8, Ouschan battled past the methodical Greek Antonios Kakaris, 9-7. Subsequent victories over Chris Melling, 10-5, Shane Van Boening, 10-8, Alex Kazakis, 10-6, and David Alcaide, 10-3, stamped his passport to the last four.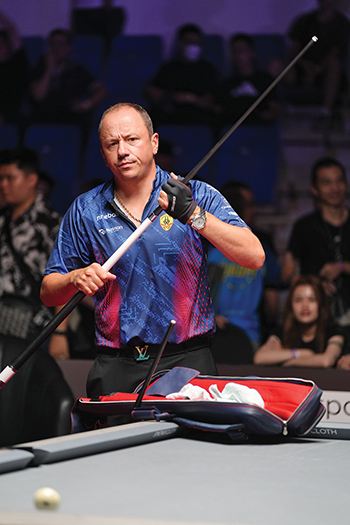 Van Boening saw a big lead vanish against Ouschan.
Once there, Ouschan led 5-0 and 10-7 only for Ping Chung Ko, two weeks removed from U.S. Open glory, to brilliantly square at 10-10.
Another darling of the crowd, Ko had rallied from 9-7 down, aided by a crowd-pleasing, cushion-first 1-9 combination, to beat Max Lechner, 10-9, in the last 16, then overcame an 8-3 deficit to score his 10-8 victory over Kyle Amoroto, a promising 21-year-old Filipino who missed a 9 he shouldn't have to lead 9-5.
One more great escape was brewing when Ko had a chance in the decider against Ouschan. Instead, partially hampered by the 3, he wobbled the 2 from distance. Reprieved, Ouschan sealed his spot in the final by sorting out a 5-9 combination.
With recently named European skipper Ralf Eckert watching the action intently, Ouschan furthered his obvious claim for Mosconi Cup wild card consideration but, even that, given the manner of his bitter defeat in the title match, offered scant consolation.
Ouschan had been painfully reminded that while 9-ball demands skill in bulk, a smattering of friendly fortune is always gratefully received, even by its premier exponents. In a recurring theme of late, Van Boening fell victim to luck as cruel as it was decisive.
At hill-hill in Winner's Qualification against Amoroto, three balls from progress, the pool gods blindsided Van Boening. In potting the 7, an aghast SVB scratched at such an acute angle to the side pocket a replay showed the pocket entrance equated to the size of the cue ball.
Inevitably, Amoroto crossed the line, sending Van Boening to the loser's bracket for a chance at redemption. In the last 32, however, history repeated itself.
After scraping past Marvin Asis, 9-8, to reach the single-elimination final 64, then beating another Filipino Michael Baoanon, 10-6, Van Boening reeled off seven straight racks to build a 7-2 buffer over Ouschan. It looked a done deal but, in this repeat of two shared World 9-Ball Championship finals, the South Dakotan could not close.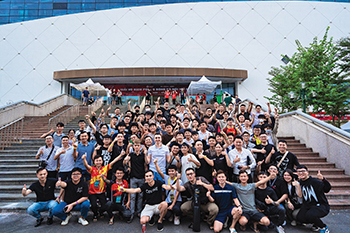 Gorst (standing front and center) saw his dreams die in the semifinals, but discovered a huge fan base in Vietnam.
Trailing, 9-8, following a grimly determined rally from the Austrian, Van Boening had an opportunity for redemption, or at least to carry the heavyweight fight its full distance.
However, in potting the 6 and swinging the white off three cushions for shape, Van Boening again scratched to the middle. As with Amoroto the previous day, potting 8 and 9 was a formality for Ouschan, as he knocked out the five-time US Open champion, 10-8.
At least, Van Boening left safe in the knowledge he had done enough to secure the third and final ranking place in Team USA at the Mosconi Cup, affording captain Jeremy Jones greater latitude with wild card choices.
Come December, Van Boening will make a 17th appearance, equalling the record jointly held by Johnny Archer and Germany's Ralf Souquet.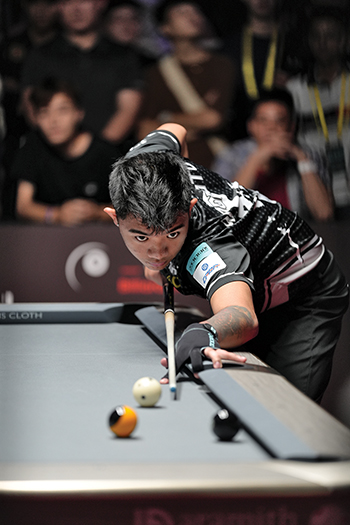 Amoroto, 21, was one of many young Filipinos who dazzled crowds in Hanoi.
Although sailing close to the wind was not uncommon, all the tournament's star attractions found their expected path to single elimination. And while there were no startling early departures, there were plenty of milder surprises.
The likes of Denis Grabe, Warren Kiamco, Yu Lung Chang and snooker specialist Gary Wilson, who missed out on reaching the last 64 for the first time in four major ranking event appearances this year, slid into that category.
They were beaten in the loser's qualification round, together with Mika Immonen, edged 9-8 by Imran Majid in a contest of fluctuating fortunes.
Loser's qualification was also the point of Billy Thorpe's galling exit, defeated 9-6 by Melling as Dayton, Ohio's, finest saw any lingering hope of clinching an automatic spot in the American quintet at Alexandra Palace in December snuffed out.
Of course, the Melling reverse hurt, but the angst felt in its aftermath was dwarfed by Thorpe's post-match devastation from the previous round. Having led Anton Raga 8-1 in Winner's Qualification, the Banker went bust, succumbing 9-8.
As they shook hands, bewilderment sculpting his expression, a crushed Thorpe rasped: "You were lucky."
So was the World Nineball Tour to alight in Vietnam, a country with a pool consciousness far deeper than anyone imagined.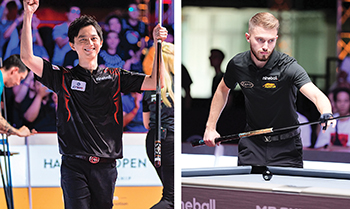 Ko (left) looked unstoppable, while Pehlanovic (right) went on a run.
Driving from Hanoi's international airport into the heart of a city of eight million people, the game's deep cultural footprint soon became apparent. Poolrooms, several mega establishments included, could be spotted everywhere, the pursuit enjoyed by all sections of society.
Vietnamese online engagement on Matchroom's buzzing social media channels supplied an indication of the tournament's excitement level. Its viewership, both live and in homes throughout the nation, was astonishing.
It was therefore a thousand pities, due to the political pressures currently swirling around the sport, that Duong Quoc Hoang, Van Boening's nemesis at this year's World 9-Ball Championship and Vietnam's clear No.1, made a late decision not to take part.
Despite Duong's unfortunate absence, spectators were treated to ample home interest. Over 80 players from the host nation, roughly a third of the field, participated and six of them secured places in the last 64.
It was there the dream abruptly died for all, including Ngo Quang Trung, who had rallied from an 8-5 deficit to stun Carlo Biado, 9-8, in the second round. Ngo's run ended at the hands of Filipino Michael Feliciano, 10-4.
Vociferously supported, the last local standing, Luong Du Thien stubbornly fought to keep the Vietnamese flame from flickering out against Bernie Regalario, a just turned 18-year-old Filipino of limitless potential.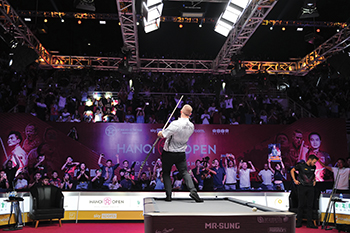 Shaw's put an emphatic stamp on the year's final WNT major with a post-win table dance.
Luong stoically rallied to pull within a single game at 9-8 but, with the prospect of hill-hill looming large, undercut the 5 to top corner as Regalario's impactful debut at a major Matchroom gathering continued with a 10-8 victory. At 14, Regalario was the subject of an article which posed the heady question, "Is this the next Efren Reyes?"
Earlier romps over Ping Chung Ko, 9-2, and legendary countryman Dennis Orcollo, 9-1, gave that outlandish premise a smidgen of validity but, in the last 32, the teenager they call 'Lil Prince' was administered a dose of reality. Up against another vaunted fellow Filipino, Lee Vann Corteza, 25 years Regalario's senior, vast savvy prevailed, with Corteza winning, 10-5.