Current Issue

Previous Page Page 2 Next Page >



Her Majesty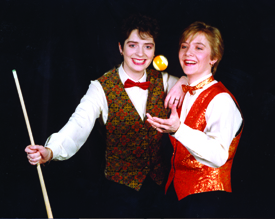 Fisher (above, with Hillard at the 1992 Munich Masters) was snooker's most recognizable woman.
But not even a bad break shot can hide pure cue talent, and both Fisher and Hillyard had that by the boatload. The two set sail through the 29-player field at the Munich Masters, which included Europe and America's top players. Hillyard bounced a trio of Swedish-born players - Laurance, Helena Thornfeldt and Louise Furberg - en route to the women's title. Only Fisher's three-set loss to Furberg in the semifinals prevented an all-snooker finale.

"I was very happy with my result," Fisher recalls, "Really, though, playing in the Munich Masters was a lark. At that point, playing pool full-time never even entered my mind."

After several more fruitless years waiting for women's snooker to at least provide some sense of security, however, Fisher began to consider drastic measures. Following a charity event that they were both involved in, Phil Collins, who owned a glazing company in London, offered to sponsor Fisher's snooker career. After she told him of her plans to instead visit America, Collins agreed to pay Fisher's way on a reconnaissance trip to the 1995 BCA Expo in Las Vegas. Fisher used the opportunity to meet the American billiard industry, reacquaint herself with some of the lady pros and got the low-down on what steps she'd have to take to get onto the Classic Tour.

"I learned that promoters were able to offer invitational spots into the events," Fisher says. "There was an event in September at Mother's Billiard Club in Charlotte. Kelly Oyama (then a touring pro and the owner of Mother's) offered me a spot, and I was also offered a spot in the McDermott Cues event in Orlando a week later."

The opportunities convinced Fisher to purchase that one-way ticket from London, and she never looked back.

Her almost immediate success shocked a lot of people at the time, but in retrospect, it should have come as no surprise.

"I played her in that very first event at Mother's," recalls Laurance. "I beat her in a hill-hill match, but you knew she was going to win pretty quickly. She was already a winner, so she didn't have to learn how to win, like, say, Monica Webb. And it was obvious that if she decided to learn the game, she'd be unbelievable. What you didn't know was if she was going to stay."

Unfortunately for Laurance and the other stars of the day - Vivian Villarreal, Loree Jon Jones and Robin Bell - Fisher never left. And she did, indeed, win quickly. Less than two weeks after posting a ninth-place finish in her first event, Fisher got a taste of life in the winner's circle, eking out a dramatic 11-10 win over Jones in the finale of the Charlotte event. Incredibly, three weeks later Fisher duplicated the feat, beating Jones again, 9-2, to win the WPBA National Championship in Bell Gardens, Calif.

Just like that three events, two wins.

"I now believe that coming here was the best decision of my life," Fisher said following her Nationals title.

Ya think?

Previous Page Page 2 Next Page >

Top