Current Issue

Previous Page Page 3



A Call to Greatness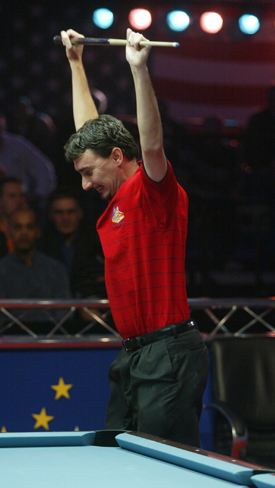 Archer hopes for a few more years as a heavy hitter on the international circuit. (Photo by Lawrence Lustig-Matchroom Sport)
He was 12 years old when he discovered pool, drawn to a small coin-op table in the arcade of a local convenience store. This soon led to him playing regularly with friends after school at a small room in nearby Metter called Chester's, owned by Chester Flynt, who mentored him in the basics of the game and eventually introduced a 15-year-old Johnny to tournament play in 1984 at the Tennessee State Open in Chattanooga.

It was a couple of years later that Varner first heard Archer's name, at the Resorts International event in Atlantic City: "My friend Dick Lane had just played him and beat him on the hill. But Dick said, 'You're not going to believe this young kid I just played. What a player he's going to be.'" By the early '90s, Varner became a true believer. "I noticed he was a real straight shooter under pressure and bore down every game like the score was zero-zero." And by the late '90s, Varner found himself, more and more, on the losing end of his matches against him. "With that powerful break of his, Johnny went four, five years playing 6-ball most of the time - and those six were all laying in front of a pocket. It was incredible. He also might be the best player who ever lived at picking out the shot, day in and day out, that gives him the best chance to win. His decision making, his judgment under pressure is impeccable. Other players seem to want to win with a blaze of glory, a slam dunk, a hard shot, while Johnny is happy to play safe, get ball in hand, and run out a few routine balls."

Charlie Williams agrees: "Johnny cares more about winning than looking good. He has no interest in showing off like a lot of great players. What it does is make his game so deceptively deadly, because as much as you have to respect his game, it looks so simple. Some guys run out lightning fast, making these incredible shots over and over again, looking flashy. Johnny looks so ordinary that he sneaks up on you. There have been at least a handful of times when I was beating him 5-0, running out from everywhere and feeling like I was in dead stroke and ready to win the set easily, and the next thing I know, he beats me. I'm shaking my head saying, 'How did this guy catch up with me?' I learned to be scared of him no matter what the score, that even if you have a big lead on him, you should never feel safe."

Archer doesn't delude himself. He knows his best years are behind him. "I feel like I maybe have seven, eight good years left in me, God willing," he says. "Still, there are days I don't know if I'll ever win another tournament. Not that I have doubts, I just know how hard it is. I know it doesn't come by just showing up.

"One thing I'm scared of is having a lull now that I've made it into the Hall of Fame. I've seen a lot of great players fade off into the night after that. I don't want to let that happen to me. I want to prove I'm not dead yet."

Melanie says, "Since getting married to me and having the kids, Johnny knows he has a lot more to fight for. It's not just about him. It's about all that we've established together."

Johnny and Melanie have been married since August 2002. What they've established together is this: two children, Johnny Jr., 5, and Mary LeeAnne, 2; a Lhaso Apso named Harley; and a beautiful 6,000 square-foot, Southern-style home in Marietta, Ga., with two white rocking chairs on the front porch and the No. 7 tee-box of a country club golf course right outside the backyard. (Across the street are Kim and Aida Davenport. Johnny and Kim own a 38-table poolroom together called the Marietta Billiard Club).

"The minute Johnny comes through the door," says Melanie, "the kids are on him, both legs, wanting to play. Johnny Jr. is wild like me; LeeAnne is easygoing like her dad. And Johnny's a good father, though not as firm as I am. And he's real sentimental. If he sees his kids hit a golf ball or shoot a pool ball, he'll get teary-eyed." Says Johnny: "My family is everything to me."

Archer got the news that he made the Hall of Fame while in Spring Hill, Fla., during an exhibition tour with Varner.

He immediately thought of his father, who will be 80 in December.

"It's just going to be a great moment for me to have him there at the induction ceremony, for him to see the result of all I've worked so hard for, even though I know he already knows," Archer says. "He's been a great supporter over the years, traveled to a lot of events and sat there for hours watching me play."

Indeed, they've made their peace a long time ago. All the hurt feelings after that late-night phone call a quarter-century ago are gone for good.

And what the father couldn't possibly see coming all those years ago just makes him so proud now.

And what the teenaged kid trying to find his way in the world couldn't understand once, the man who turned out just fine in the end understands all too well.

They can smile about that call now, even laugh about it, and on the night of the Hall of Fame induction ceremony, they might even hug thinking about it.

Previous Page Page 3


Top