13-year-old Savannah Easton is on the fast track to pool's upper echelon.
By Mike Panozzo
Fulda, Germany, host town of the European Open, is twinned with five other cities, including Wilmington, Delaware.
Monitoring the growth of mercurial budding star Savannah Easton is relatively easy.
Physically, the telltale sign is the number of visible letters on her trademark "RoadRunner" jersey. As a 4-foot-7, 70-pound 11-year-old throwing herself headlong into a Women's Professional Billiard Association tour event in 2021, the precocious Las Vegans' jersey revealed just R-O-A-D-R-U-N, with the final three letters tucked deep into the back of her tiny black jeans.
Today, having sprouted to 5-foot-2 and carrying a full 95 pounds, the grizzled veteran player of 13's jersey displays all but half of the E and the final R. The long brown hair and wide-eyed grin are still there, but long gone is the McCready-esque sidearm stroke Easton needed to use in her competitive debut at the 2021 Billiard Education Foundation Junior National Championships. And braces have been added.
Competitively, Easton's growth is equally evident.
In addition to a plethora of junior tournament titles in 2023 — including three Billiard Education Foundation (BEF) Junior National Championships gold medals and a pair of Junior International Championships (JIC) titles — Easton has produced finishes of seventh, 13th and 17th in three Women's Professional Billiards Association (WPBA) pro tournaments, and a runner-up finish in the Ladies 9-Ball division at the 50th Texas Open. Over the past two years, the seemingly indefatigable teen has blazed away in an astonishing eight of 10 WPBA events (including a fifth-place finish in '22 at the WPBA Sledgehammer Open), winning often enough to be ranked in the association's top 16 (currently ranked No. 14).
In world tournaments, Easton went 1-2 in the World Pool-Billiard Association (WPA) Women's World 9-Ball Championship in Atlantic City, tied for fifth in the 2022 Girls WPA World Junior 9-Ball Championship and is set to play in the 2023 event in Austria in mid-October.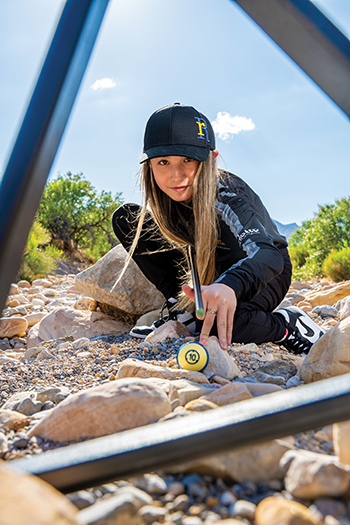 (Photo by Derique Hanche)
Accomplishments made all the more incredible by the realization that her first ever competitive event was the 2021 BEF Nationals in Las Vegas, a tournament in which Easton promptly went two-and-out in both divisions in which she competed. But while it would be understandable for a young, first-time player to be intimidated and overwhelmed by the harsh reality of competition, the pixie-ish 11-year-old was fueled by failure.
"She came up to me right after that," recalled Savannah's mother, Tiffany, "and said, 'Mom, I'm gonna win this next year. I promise you.'"
"I remember the BEF was here in Las Vegas, and I just wanted to see if I liked it," Savannah remembered. "I'd never watched any junior players, so I didn't really know how good they played.
"I was a little surprised by how many of them there were," she added with a giggle. "I didn't think so many kids liked pool.
"I was just excited because I was able to run with them and get a couple of games off them. (Easton actually pushed established junior player Bethany Tate to the hill in her first match.) And I won the doubles tournament, where I got paired with Landon Hollingsworth. I didn't even know who he was. After that, I was pretty much hooked."
Twelve months later, Savannah fulfilled her promise, taking home two junior titles — 14-Under Girls 9-Ball and 18-Under Girls 8-Ball at the 2022 BEF Nationals.
"I practiced a lot during that year," Savannah said. "And I played in a lot of local tournaments here in Vegas and in a WPBA event. I won one match there. That was huge for me."
For Tiffany and husband Larry Easton, Savannah's success is hardly surprising, given her unlimited energy and competitive drive, traits she's shown since the day she was born.
"Savannah could never sit still for more than a minute," Tiffany said, sounding exasperated by the mere recollection. "Savannah's older brother Cameron (an aspiring pilot for whom Tiffany and Larry constructed a flight simulator) has always been book smart and loves to read. Savannah was just the opposite, although she's always excelled in school."
It didn't take long for Tiffany and Larry to realize their constant-motion daughter was going to need activities to help burn off her endless energy. So, they signed her up for all the sports that Cameron, three years older, was playing. She immediately stood out.
"She's capable of doing anything," Tiffany swears. "I can't name a single sport she's played that she isn't a superstar."
The list is long, starting with soccer at the age of six. Not surprisingly, the tiny tot was the team's leading scorer. Flag football followed soon thereafter, although Tiffany's dislike for the sport limited her participation to a single season.
Next up was volleyball, where Savannah earned her first nickname — "Mighty Mouse." "Her coach gave her that name," Tiffany laughed. "She's always been so tiny and skinny, but she's so powerful."
What was also obvious in Savannah's drive to excel in sports was her general disdain for girls' sports. Inside that adorable, petite exterior was a fighter. The tougher the challenge, the greater the determination.
At eight, Savannah was pitching on an otherwise all boys' Little League team coached by the father of Las Vegas native and Major League Baseball star Kris Bryant. She was selected to the league's All Star team and was asked to be on a travel squad.
After two seasons, however, Savannah's future in boys' baseball appeared limited, and she turned up her nose at the prospect of playing girls' softball.
In the meantime, a worldwide pandemic shut down most activities for kids.
"Everything for the kids was pretty much shut down," said Tiffany. "One of the only things she could do was skate, but she didn't know how."
That's when ice hockey entered the picture.
Well, ice hockey by way of figure skating.
"I suggested figure skating because it's an individual sport," Tiffany rationalized. "She took four lessons and then looked at the outfit. That was it."
"Figure skating didn't last two weeks," Savannah scoffed. "For one, I didn't want to wear a dress. And I wanted to body check people! My brother played and I watched his games. I was like, 'That looks like fun.' And hockey is fast. Everything happens in a split second."
Within a year of lacing up the skates for the first time, Savannah was selected to play on the Las Vegas Junior Knights traveling squad.
"I played mostly right wing, and I scored a lot of goals. It was fun," said Savannah, adding with a giggle, "and my mom liked it because she could yell and hit the glass. If she makes one peep in the poolroom during a tournament, she'll get kicked out."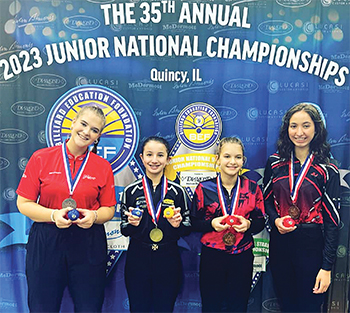 The gluttonous Easton won three gold medals in the 2023 BEF Junior Nationals.
Always in the background, though, was that 9-foot Brunswick Gold Crown table that Larry had installed in their Spring Valley home southwest of the Strip some years earlier for casual sparring with a pool-playing friend. Savannah always enjoyed hitting balls when the opportunity arose. Suddenly, with COVID-19 forcing families to spend far more time at home, the opportunity presented itself virtually every day.
"Before COVID, I just played for fun," Savannah said. "But then I just really started practicing and actually trying to practice cue ball control and safeties and all that."
Over the next 12 months, Savannah practiced with abandon, pushing herself to learn the proper techniques and in-game decisions. She sparred with her father. She was relentless in her pursuit of conquering the table.
Among the casualties of COVID was the Easton family's annual trip to Macau to visit Tiffany's grandmother.
"We usually went to visit my great grandma in Macau around the time the BEF was happening," Savannah recalled. "But because of COVID we couldn't travel overseas, so I got to play in the BEF. And I started playing in more tournaments. I was pretty much addicted to pool by then."
Following the 2021 BEF, Savannah split all her free time between pool and hockey. The family traveled to hockey tournaments one weekend and pool tournaments the next. Her hockey teammates were upset when Savannah missed games. Plus, the pace, not to mention the expense, got to be a bit much for Larry and Tiffany.
"After about eight months of that… around March '22… we told Savannah she had to pick one or the other. We couldn't continue with both."
While Savannah loved both sports, her inability to sit still hinted that she might stick with hockey. And she might have, had she not scored the winning goal in a tournament in Texas in December 2021.
With the 12U championship game between the Junior Knights and a team from Texas locked in a scoreless duel late in the third period, Savannah punched home the title winning goal. The team celebrated and Savannah was announced as the winning goal scorer.
Then came the trophy presentation. Or lack thereof.
While the players each got small gold medals, the giant trophy didn't go home with the team. In fact, Savannah didn't even get to touch it. And in the championship photo, the game's hero was barely visible in the back row.
"She was so disappointed that she didn't get the trophy!" said Tiffany. "You could tell she wanted to do something where she would get the trophy."
"I was so mad," Savannah admitted.
To make matters worse, the first thing she noticed on the family's return to Las Vegas was the slew of three-foot tall trophies Cameron had earned as a competitive go kart driver.
"I was jealous of that," Savannah added.
In search of individual satisfaction and glory, Savannah announced herself as a fulltime pool player.

The athletic Easton has excelled at multiple sports, including soccer, baseball, and hockey.
"Once I started practicing more and winning a couple of tournaments, I realized how much more I liked pool," she said. "And, if I'm being real, I was definitely better in pool than I was in hockey. Also, I think there's more of a future in pool. If you're a girl hockey player, the only thing you can do is play in the Olympics."
Still, it was on her way to hockey practice one day that Savannah's "RoadRunner" nickname was hatched. With the family piled into the car ready to back out of the garage, Savannah said she'd forgotten a piece of equipment, opened the back door and raced back into the house. Upon returning to the car, she remembered something else she'd forgotten and raced back in and out. After a third such occurrence, Tiffany rolled her eyes, saying, "She's like a Tasmanian Devil!"
"We'd been thinking of a nickname for her," Tiffany admitted. "We loved Darren Appleton's 'Dynamite' nickname, and we'd seen Sofia [Mast] at a tournament and she had the 'Pink Dagger' logo. But we didn't want an image like a devil. All of a sudden, I blurted out, 'the Road Runner!' It suits her and her personality."
Almost instantly, the branding found its way to Facebook and was soon followed up with the "Beep Beep!" proclamation that announces upcoming trips and tournament wins.
"Everyone has watched Looney Tunes," Savannah rationalized. "So, I think the Road Runner was something they could relate to. Also, I like that the road runner was always being chased by the coyote. So, my coyote is all my opponents."
By early 2022, Savannah had officially forsaken hockey for pool. But any notion that cutting out one sport would also trim the amount of travel was quickly dispelled. The Eastons, whose property investments allow them the freedom to travel, set sail on a tournament tour that would make the game's most frequent flyers blush. WPBA and Predator Pro Billiard Series events accounted for eight trips, along with five JIC stops. Another half dozen trips for events like the WPA World Junior Championship and Texas Open, and the Eastons made 19 out-of-state trips in 2022. Living in Las Vegas allowed Savannah to sleep in her own bed for a handful more tournaments.
And as driven and talented as Savannah Easton is at the table, her understanding of brand building and her comfort level with sponsors and fans is astonishing for her age. Her natural exuberance, thirst for knowledge and respect for opponents and the game have been evident from the start. Not surprisingly, fans and companies alike started joining what is now officially registered as RoadRunner Billiard Industries. Her website, on which she updates her schedule, shares streamed matches and chronicles her trips, lists a dozen sponsoring companies. Her Facebook page has more than 13,000 followers.
(The budding star should consider branding and marketing consultation for her elder pool playing contemporaries. "I can give you 30 minutes between the afternoon and evening matches.")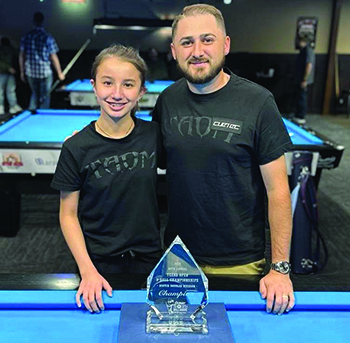 Easton's doubles win with Woodward earned her the trophy she longed for.
"You see players in all other sports brand themselves," Savannah said. "That's why those sports and their players are so big. They know how to brand themselves. We just thought it would be a good idea to start a website and shop, even if it didn't get a lot of action."
Not surprisingly, the 13-year-old is as well known at tournaments as Hall of Famers like Kelly Fisher and Allison Fisher. Photos and autographs are commonplace.
"We don't mind all the attention," Tiffany clarified. "We'd love to think that she can have a positive impact for the sport and inspire more kids to play. We want people to follow her journey and see that it can be a realistic goal. It's within reach for anybody if they set their mind to it.
"And the attention motivates her to do better each time, knowing that she has so many people behind her and supporting her."
2023 has been another heavy year for Savannah, who checks in at her middle school for several hours a few times a week but takes most of her classes and assignments online. The Eastons have already logged well over 15,000 miles apiece during 15 out-of-state trips, with jaunts to Austria and Puerto Rico still on the calendar.
"I like the sightseeing and visiting new places," Savannah noted. "But long flights and time changes are tough, especially when you have so little time to adapt before you have to compete."
And for all her charm and enthusiasm, it is Savannah Easton's talent that is getting the most attention in pool circles. Her willingness to cross cues with the pros tournament after tournament, winning more than most would expect but also falling frustratingly short against the very best, is a trait not normally found in a 13-year-old.
"I first played with her at an event a few years ago," recalled BCA Hall of Famer Darren Appleton. "I could see that she had a natural eye for the physics and the cue ball. That's a big advantage at such a young age. She reminded me a little of [Filipino player] Chezka Centeno. It will come down to hard work, but her future looks amazing if she wants it and continues to work.
"The important thing is to not expect too much too soon," Appleton continued. "You have to let it happen naturally. When she gets to 17 or 18, that's when life really begins. Luckily, she has great parents and loves the game."
If there is one part of Savannah's game that could use some work, it's her match theatrics. Her outward appearance seldom changes during a match, to the point at which a fan might not know if she is winning or losing, or happy or disgusted with her most recent shot. At the conclusion of each trip to the table — be it a successful 9, a lock-up safety or a misplayed shot — she simply spins on her heels, flicks her head to send her long ponytail back over her shoulder, and marches back to her chair. Win or lose, her matches conclude with a straight-faced walk to her opponent with her right hand outstretched.
But make no mistake, a competitive fire burns within.
"You can tell she really wants it," noted Appleton. "She's a sweetheart and so polite and friendly, but you can see that she's a killer on the table."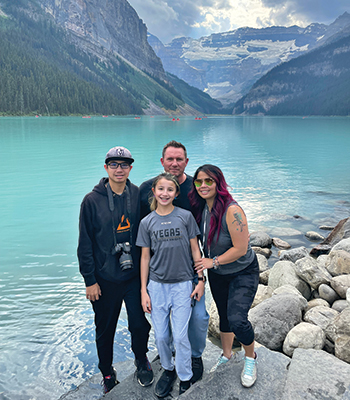 The Eastons (here in Canada) have traveled far and wide in support of Savannah's pool dream.
That killer has taken down the likes of U.S. No. 1 Caroline Pao and former WPBA tour champion Monica Webb over the past year and was in the hot seat in the recent Texas Open women's division before dropping a two-set finale against fellow junior, friend, and frequent late-rounds opponent Sofia Mast of Florida.
Not that the Texas Open was all disappointment for Savannah. She teamed with current American No. 1 Skyler Woodward to capture the event's Scotch Doubles title and, equally important, snagged her coveted first honest-to-goodness trophy.
"That trophy is going right up on the mantel at home," she said, proudly.
Yes, the future in pool is bright for the precocious teen, so long as she doesn't become fixated on her other interests — piano, guitar and baking. ("I make great crème brulee from scratch," she boasted.) But she insists she's not pressuring herself by setting her goals too high.
"When I get into WPBA events, I aim for top 16, but I want to reach the top 10," Savannah said. "The Predator Pro Series events are a little tougher, so top 16 is a good finish. My goal for the year is to finish the year in the WPBA top 10 and get my FargoRate to 600."
That's not to say that Savannah doesn't dream big.
"I'm coming for Kelly!" she claimed.
"She has what it takes to be a future world champion, that's for sure," Kelly Fisher said in response. "Her game has really improved and continues to do so. And she's such a sweet yet confident young girl. She's also lucky to have such wonderful and supportive parents."
Fisher's sentiments were echoed by Belarusian transplant Margaret Fefilova Styer, at 26 herself one of the game's rising young stars.
"She's a perfect combination of talent and hard work," said Fefilova Styer. "She's played different sports, so she's already very athletic and picks things up very quickly. And she has amazing support from her parents, which all adds up to a great combination for future success."
There's no question that the support Savannah receives from her parents is remarkable and impactful. They travel with her to every event and never miss a shot, with Tiffany often streaming Savannah's matches on Facebook Live. But, while they are as enthusiastic as their daughter about her pool career, they are also realists and have had "the discussion" with her about the future.
"We do believe she can have a career in pool," Tiffany said. "But we've also talked with her about getting a college degree. That's something that she would always have in her back pocket, in case pool doesn't work out or she gets tired of pool or whatever."
"I plan to stick with pool for a long time," Savannah insisted. "I want it to be my main career. But I also want to go to college. I think I'd like to study architecture. And I want to actually go and live on a college campus. You only have the chance to experience that once. It would be fun. My mother is still good friends with some of her college friends. That would be cool."
Cool, but still a good five years away. By that time, the fireplace mantel in the Easton home may well be buckling under the weight of trophies from around the globe.
And the name "RoadRunner" will surely be fully readable down the back of her jersey.