With the U.S. Open Pool Championships ready to call Atlantic City "home," a look back at the 1980's, when "The World's Largest Playground" played host to most of the sport's marquis events.
By Keith Paradise
Jim Rempe walked out onto Atlantic City's famous Steel Pier with his wife, Sally, and a bottle of Dom Perignon. The year was the spring of 1986 and he had just won the first Last Call for 9-Ball tournament, a double-elimination contest that was the brainchild of Bill "Weenie Beanie" Staton and Rempe's old friend Jack Johnston, general manager of host casino Resorts International. After his victory against Efren Reyes in the finals, Johnston, who befriended many players as a fellow competitor growing up in the poolrooms of Augusta, Ga., had one more surprise in store. A red carpet had been rolled down the pier, with the casino's helicopter stationed on the other end to transport the champion back to his hometown of Scranton, Pa.
"They asked me what I wanted to see on the ride home and I said, 'Just fly as low as you can so I can see the treetops,'" Rempe said, laughing at the memory of the hour-long flight back to Pennsylvania. "When I got back home the local media was out. It was a big deal."
It could have been a scene straight out of "The Color of Money," not only because of the pizzazz of the situation but because Martin Scorsese and his cast were on-sight to film scenes for production of the not-yet-released film. Tournament Director Jay Helfert would learn this first-hand one evening when he was manning the main table and announcing the matches. He felt a commotion to the side of him one evening as he was calling out player names and table numbers. When he looked to his right he caught the sparkling blue eyes of Paul Newman, who was in-between takes downstairs and had come up to watch the movie's technical director Mike Sigel.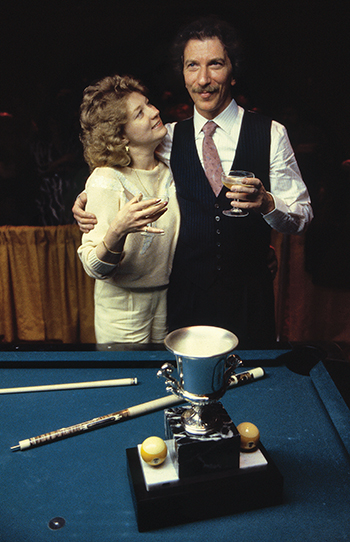 Rempe (with wife Sally) was the toast of the Boardwalk at the Last Call for 9-Ball and received a helicopter ride home as a bonus.
"I didn't know what to say," said Helfert. "So, I said nothing."
Ironically, despite the movie's plot revolving around the odyssey surrounding a big event in Atlantic City, pool's history with the resort town isn't nearly as vast and frequent as it is with other destinations such as Las Vegas, Reno or even the Norfolk-Virginia Beach area. In fact, as the U.S. Open Pool Championship prepares to relocate to its new home at Harrah's Resort in the city's marina district, a quick look at the archives shows that it's been over two decades since professional pool players have converged at the New Jersey beach destination for a large-scale tournament.
This wasn't always the case, as both the sport and the destination each took turns feeling a bit of resurgence in the second half of the 20th century. Although the roster of competitions in the beach resort town is short on quantity, there's no lack of quantity — with the city setting the stage for two of the game's biggest milestones almost 40 years ago, including the biggest first prize in the game at that time, the first-ever live event and the time dissension resulted in the first time that pool used instant replay.
"Those events had phenomenal money, were well-run and were loaded with people," said Loree Jon Ogonowski, who competed in tournaments along the boardwalk as a 15-year-old teenager.
When looking at the history of Atlantic City in comparison to pool's, it's a wonder that the two haven't been more closely aligned in the past — if not the best of friends. Both have had their share of ups and downs with a cast of characters, both savory and unsavory, so vast that Hollywood has documented each. Both have struggled with image and have worked repeatedly to jumpstart business when times got rough.
With its location along the southern New Jersey coast, the region was viewed almost immediately as a resort destination and the first hotel was constructed in 1853. Fifteen years later, a boardwalk was constructed and, by 1874, approximately 500,000 visitors annually were arriving by train to take in the sea, sand, and sights. The turn of the century saw the smaller boarding houses that had previously dotted the shoreline replaced with larger, more elegant hotels like the Ritz-Carlton, the Traymore and the Marlborough-Blenheim.
When the 18th Amendment was ratified in 1919, ushering in the Prohibition Era throughout the nation, the new laws were more-or-less ignored in town – as were many other regulations on vice. With political leader and racketeer Enoch "Nucky' Johnson providing political protection in exchange for kickbacks for everything from alcohol sales to gambling to prostitution, the city gained popularity among travelers and a reputation as "The World's Largest Playground" until the ban on alcohol ended in 1933.
Much like many real-life playgrounds that are left out in the weather-battled elements, the city was starting to show wear and tear by the late 1950s and early 1960s, as rail travel was replaced by air travel and the interstate highway system. Northeastern residents suddenly had more destinations available to them and opted for warmer climes like Florida and the Bahamas, while areas like Atlantic City experienced sharp drops in hotel occupancy. Many of these facilities were either converted to low-cost housing or torn down completely. Desperate to try to revitalize the destination, New Jersey residents approved a referendum to legalize casino gambling in Atlantic City in 1976. The first facility to officially open to customers was Resorts International, which began operations on May 26, 1978.
Three months earlier, on Valentine's Day, approximately 20 million Americans tuned into ABC's Wide World of Sports to watch Willie Mosconi and Rudoplh Wanderone, better known as "Minnesota Fats," do battle at the Waldorf-Astoria Hotel in New York City. The match, named "The Great American Pool Shootout" and produced by Bill Cayton and Jim Jacobs of Big Fights Productions, was the second most-watched event on the program that year, upstaged only by a Muhammad Ali fight. There was suddenly an interest in pool from television again, or at least an interest in watching Fats and Mosconi. Big Fights would go on to produce a number of events for network television, most taking place in Atlantic City. In addition to matches involving Fats and Mosconi, Cayton began to introduce young, up-and coming players of the time like Steve Mizerak and Allen Hopkins, creating the Legendary Billiard Stars series. Over time, he added Mike Sigel, Nick Varner, Lou Butera and Ray Martin — including the 1981 Professional Pool Players Association World Invitational 9-Ball Championship, which was announced by Howard Cosell and won by Varner.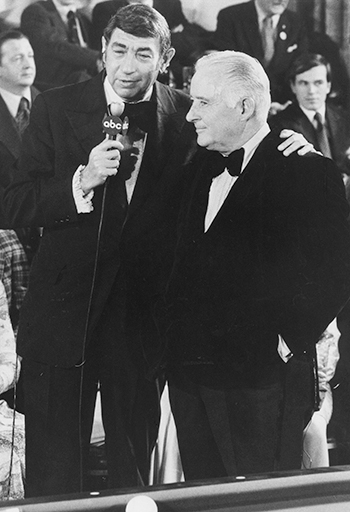 Legendary TV broadcaster Cosell (with Willie Mosconi) brought style and credibilty.
"Cosell was so nice to me, but he was so rough on Sigel," recalled Varner, who jumped out to a 4-0 lead and coasted to victory. "I hit him with three-in-a-row, and I think at one point he said that Sigel forgot how to play."
Having a broadcasting icon involved in the production added a level or class and importance to the event but one thing became apparent early: The charismatic, loquacious and cocksure lawyer-turned-media personality didn't know one damned thing about pool. When Mizerak executed a routine shot, Cosell couldn't stop bellowing about what a miraculous feat it was, but when he landed a much more difficult shot a few moments later, the response was practically hushed.
"Just another routine shot by Steve Mizerak," he said.
"He was a very clever person, let's put it that way," said Allen Hopkins of Cosell. "He winged it and he didn't care because it was Howard Cosell. It didn't matter."
When an upstart cable channel in Bristol, Conn., called the Entertainment and Sports Programming Network (ESPN) launched in September of 1979, it needed low-cost content to fill its airwaves 24 hours-a-day. It was the embryonic stages for the new station, a decade before it would be acquired by ABC and have access to live games for all four major leagues, with morning programming consisting of fitness shows and roller derby and evenings containing Australian rules football and other niche sports. Pool fit right in, and in fact, drew a steady audience to the station.
"Billiards was really good 'evergreen programming,'" said former ESPN executive Tom Odjakjian. "You can run it multiple times and it gets the same rating because it wasn't live. It always got a nice rating."
Cayton and Jacobs again stepped to the plate with Atlantic City playing host to the Legendary Pocket Billiard Stars Tournament at Harrah's original casino on the boardwalk. With players and personalities like Mosconi, Wanderone, Luther Lassiter, Irving Crane and U.J. Puckett all competing, there was as much entertainment away from the table as on. Helfert recalled Wanderone getting into an animated debate with Puckett at the bar late one night about how close of friends he really was with 60 Minutes reporter Harry Reasoner, who had profiled Puckett years earlier. When Fats scoffed and called his bluff, Puckett went to a phone and called Reasoner.
"He woke up Harry Reasoner, in bed, at one o'clock in the morning," said Helfert. "And Puckett thought it was funny." The next day, the CBS reporter showed up at the event from New York to watch the competition.
By the mid-1980s, the New Jersey beach town boasted 11 casinos employing over 30,000 people and became a regular stop for professional pool promoters, with Big Fights putting on King of the Hill challenges, Richie Florence hosting occasional big purse events at Caesar's Palace. In 1984, Resorts held its first big money 9-Ball Open Championship, with the $25,000 top prize won by the late Jay Swanson. Then, in 1986, Staton and Johnston staged the first Last Call for 9-Ball at Resorts, with 128 players kicking in a $500 entry fee for the $50,000 added money event and the winner taking home the then-highest ever top prize in pool: $35,000. The casino wasn't exactly unfamiliar territory for pool, which had hosted the PPPA World International in 1980.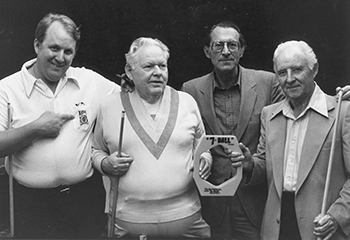 Promoter Cayton (with Mizerak, Minnesota Fats and Mosconi) was responsible for a dozen televised events in Atlantic City.
Back in Scranton, Rempe was on the fence about whether or not he even wanted to play. He was dividing his time between American pool, English 8-ball and snooker, which had a big event on the calendar around the same time as the Resorts tournament. With the event being hosted by Johnston and situated within a two-hour drive from his home, allowing him and friends to easily attend, Rempe entered at the last minute and put in some practice leading up to the competition.
The event was remarkable for two intangibles: Rempe's prowess and the emergence of young, diminutive Efren Reyes of the Philippines, who breezed through the brackets before being dispatched to the one-loss side by Rempe. The Filipino worked his way through the one-loss side to reach the semifinals, where formal attire was required. When Staton learned that neither semifinalist, Reyes or Jay Swanson, had the appropriate clothing, he took them to a clothing store and bought them black dinner suits and cummerbunds.
Rempe and Reyes met again in the finals, with the former using a potent break shot to jump out to a 6-2 lead and cruise to an easy 11-4 victory.
"That was a really fun tournament because I knew Jack and he took care of me really well," said Rempe. "I played good the entire tournament, and after that Efren couldn't win for a couple of years."
The second Last Call tournament was scheduled for around Easter the following year.
"Who in the hell is going to come to this over Easter," wondered Tournament Director Pat Fleming.
Just 393 competitors, including 356 men, that's all. And if Mike Sigel had gone with his gut instinct, it would have been 355. Even with Newman in his cheering section, Sigel was an early flame out in the previous year's event and had no interest in competing until Billy Incardona called and offered to stake him. Sigel, who would win back-to-back World 9-Ball Championships and was named Billiards Digest Player of the Year in 1986, took the offer at the last minute and began the four-hour drive from his Maryland home to the resort town.
The game was beginning its decade-long upswing thanks to the release of the motion picture which had been partially filmed at the tournament the year earlier. As a result, the 1987 version would include pool's biggest-ever top prize: $40,000 cash in shrink-wrapped plastic and a trip to the casino's Bahamas resort in Paradise Island. By comparison, the manufacturer's suggested retail price on a 1987 Cadillac Fleetwood was $21,265 and a gallon of gas was 86 cents.
The event was also taped and broadcast later in the year on ESPN, with Resorts using the advertising opportunity to display the casino logo directly across the felt of the Gandy table used in the championship arena, a mode of marketing that not every player appreciated.
"The screen printer screwed it up or something happened where they had to use the crap table cloth and they put that logo in there," said Varner. "Oh my God, it was horrendous. It was so slow. I didn't mind it being slow, but it was tough aiming through that logo."
A recording of the semifinal and championship matches are available on the internet, with tournament promoter Johnston serving as commentator and frequently reminding broadcast partner Phil Stone and the television audience of the, "Forty-thouuuusand dollars and trip to Paradise Island" which were at stake.
Sigel was in the form that would earn him his reputation for being one of the top players in the game when the title was on the line, building a 7-4 lead over Varner in the title match.
"When I'm in the finals, that's usually my best match," said Sigel. "I've already got money coming. You're playing for the title. I'm so pumped up most people thought I was on drugs. I would fly around the table. You've got nothing to lose. That's when I freewheel."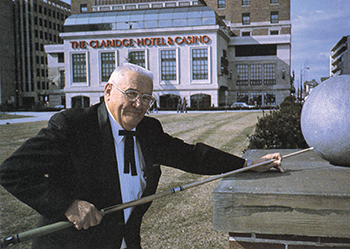 The old Claridge Hotel and Casino played host to "Cowboy" Jimmy Moore (above) and the Legendary Pocket Billiard Stars Tournament in 1983.
Sigel was leading 8-3 in a race-to-nine when Varner played safe, tucking the cue ball next to the 7 ball while sending the 5 ball down table. As Sigel sent the cue ball down table, kicking the 5, referee Scott Smith called a foul, arguing that the cue ball grazed the 7 ball on its way down-table. A debate ensued while the crowd yelled out "replay" and, for the first time in pool history, officials went to the video tape to determine if a foul had occurred. The call stood and Varner cleared the table to cut the lead to 8-4 but it didn't matter, with Sigel clinching victory in the next game.
Jean Balukas won the women's division and the $10,000 first prize, also pretty significant prize at that time.
"I do believe that that was the biggest paycheck of my career," she said. "I don't remember winning more than 10 grand in any event."
A few months later, Balukas would be back in Atlantic City for another competition – and mildly involved in controversy.
Pool, ESPN and Atlantic City were so interconnected at that time that ESPN experimented with a live scotch doubles event at the Atlantis Hotel and Casino on an October Sunday evening. Named The Brunswick 9-Ball Team Challenge, the two-hour program, devised by the Odjakjian and promoter Barry Dubow, pitted four coed teams against each other on two side-by-side tables — a revolutionary concept at the time that Sigel still raves about.
"I saw the light," said Sigel. "You're filming two matches at the same time, so you can go back and forth. It's too boring and there's too many lulls with just one table."
"We were really trying to do some new creative things," said Odjakjian, who now works as an executive for the American Athletic Conference. "It did a great rating, and we got some great attention."
Some of the attention was the result of comments made by Mizerak in a pre-recorded interview.
"The men should play in the men's division and the women should play in the women's division," he said.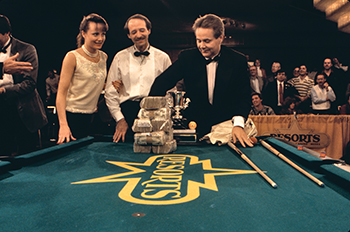 Pool lover and Resorts International general manager Johnston (above right, with winner Mike Sigel) handed out bundles of cash.
The statement was an indirect shot at Balukas, who had competed in men's events in previous years — and defeated the Lite beer commercial star on a couple of occasions. As luck would have it, when it came time to pull billiard balls for drawing partners, Mizerak drew Balukas.
"I'll say this in his defense: He was always kind to me and tried to get me onto a couple of exhibitions," said Balukas when rewinding her memory. "I always took the position that I played in qualifiers to get into these tournaments; that I beat the men."
Sigel, who was paired with Laurance, immediately took advantage of each player wearing a lapel microphone, purring out "good job, Parrrrrrdner" after each completed shot throughout the round-robin event. Three decades later, he still remembers saying it and she still remembers hearing it.
"I think we had more fun than the other teams," said Laurance. "Mike and I had that camaraderie because we used to give each other crap all of the time."
"I carried the whole show," said Sigel with his signature humility. "I was animated, and I kept going, 'partner' and the other guys were like a mouse. With us talking, that made it exciting."
An added element of excitement for tournament referee Fleming came from the production truck. When the race-to-five semifinal matches ended earlier than expected, producers suggested the finals be extended to a race-to-six, with which Fleming complied. With Sigel and Laurance comfortably ahead in the championship match, Fleming received another question in his ear piece.
"How long is this going to take," asked the producer Fleming reminded the network employee of the race length. "It has to be done in 20 minutes," he replied. "Okay, it'll be done in 20 minutes," said Fleming.
At the time, Sigel and Laurance held a comfortable 5-1 lead against Hasson and Hopkins in a race-to-seven. As the balls were being racked for the seventh game, Fleming simply said to the players, "Okay, last rack," meaning that even if the pair lost the next game on the hill, the show was over.
"It was live. It had to end," said Fleming as he laughed the memory.
The winners each earned $7,000 for the effort and the event topped out with a 1.3 overall rating on a night where the competition was the 1987 World Series being aired on ABC.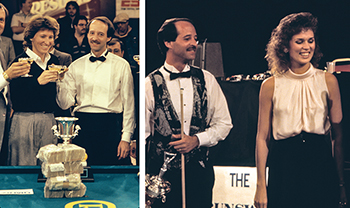 Women stars Ewa Laurance (right) and Jean Balukas (left) joined Sigel in several event-winning moments.
"It was a big deal," said Laurance. "It's surprising in hindsight it didn't go anywhere."
"It really felt like pool was about to take off," said Rempe. The game did continue to grow into the 1990s with the development of the Pro Billiards Tour for men and the Women's Professional Billiards Tour but stops in Atlantic City began to dissipate like the beach crowds after Labor Day weekend. A disagreement between Cayton, the players and the network led to a falling out in the late 1980s and when Johnston left Resorts to take another position it was lights out for the Last Call events. Other than an occasional one-off tournament, like the made-for-television Challenge of Champions which was last held in the city in 2016, pool simply hasn't been on the agenda there until Matchroom's announcement in June.
After the U.S. Open's one-year stint in Las Vegas, Matchroom appears content with making Atlantic City the tournament's home, at least for the foreseeable future.
"The East Coast has a thriving pool community," noted Matchroom Multi Sport Managing Director Emily Frazer. "We hope Atlantic City will become the new home for this great, historic event."
If it, indeed, does, pool will find itself in comfortably familiar surroundings.