Spain's David Alcaide defied Father Time, winning his first major open title at 44 in Germany.
By Phil Yates
Photos by Taka Wu
Fulda, Germany, host town of the European Open, is twinned with five other cities, including Wilmington, Delaware.
In the eyes of David Alcaide, Rutherglen, Scotland, should also feature on the list. For him, the link could hardly be stronger.
It was there, at McGoldrick's Pool and Sports Bar, where the amiable Spaniard sparked an otherwise lame year into life by winning the Jacoby Open, outlandishly fluking the 8 at hill-hill in his 8-7 title squeaker over Phil Burford.
In that instance, Alcaide's form and fortunes pivoted from depressing to dynamite.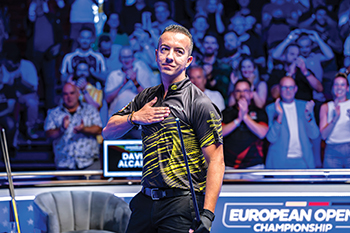 Three weeks later, thanks to his similarly dramatic 13-12 victory over Anton Raga in the European Open climax, El Matador became the oldest winner of a major World Nineball Tour event. No bull.
By negotiating nine matches undefeated at the Hotel Esperanto Conference Centre, and pocketing $30,000, the 44-year-old not only reinvigorated his career, he erected a platform from which to hit new heights.
Climbing to tenth in the WNT rankings could well secure his inclusion in the World Pool Masters next year and taking a shot at a third Masters crown. Even more pleasing, automatic selection for Ralf Eckert's European team at the Mosconi Cup became more probability than possibility.
"I can't tell you what this means to me," said Alcaide, who last experienced such emotions having partnered with Francisco Sanchez-Ruiz to a maiden victory for Spain at last year's World Cup of Pool. "I've come up good when it matters and that's very important for confidence. I'm so happy and proud."
In the 2023 World Cup, however, Alcaide and Sanchez-Ruiz were bounced out of the tournament in the opening round. Compound that with his last-64 departure from the World Pool Championship and first-round World Masters exit, and 2023 had not been vintage.
Tableside, 20 or so minutes after the TV broadcast had concluded in Fulda, with the sold-out crowd having filed out, Alcaide was suddenly left alone in his thoughts. As he looked down at the trophy, almost in disbelief, I approached.
After shaking Alcaide's hand, I simply asked: "How has this happened?" The champion was almost at a loss for words.
Then it dawned on him: "You've never got to quit; keep going, keep going, then maybe good things can happen. This is so very good," he said, before blowing out his cheeks, another wave of sublime realization having washed over the likeable veteran.
Alcaide's last great individual joy arrived at the 2019 World Pool Masters in Gibraltar, his length of table bank on the 9 thrillingly completing a hill-hill comeback victory over Alex Kazakis in the final. The crux in Germany was no less gripping.
Never more than a game's separation between himself and Filipino Raga to 6-6, Raga broke and ran in consecutive racks for an 8-6 lead before overcutting a long 2, just when it appeared the money match monster from Cebu was poised to pull away.
Alcaide cleared, revelled in a 16th rack road map, easily dealt with a 4-9 combination in the next and utilizing two additional break and run outs, swiftly forged into an 11-8 lead. Raga, though, remained resilient.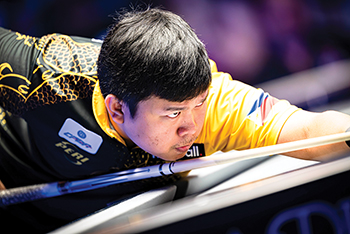 Raga posted impressive wins in Fulda.
Raga, whose reputation as a voracious cash player prepared to offer well known opponents a handicap is not exaggerated, launched his rally by tidying up in the 20th rack after Alcaide misjudged an attempted safety on the 2.
Raga ran out from the break in the 21st and drew level at 11-11 by picking up the pieces after Alcaide perceptibly snatched at a straightforward 3 to emphasize his growing degree of nervousness.
Sensing this, Raga challenged Alcaide to jump pot the 3. Alcaide was not up to the task and duly fell behind, 12-11. In many respects the star, certainly the revelation of the week, Raga was both on the hill and the brink of an international stage breakthrough of huge proportions.
Instead, the pint-sized 25-year-old, edged 11-10 by Jaiqing Wu in the 2019 China Open final, was again unable to cross a big occasion line.
Unexpectedly ignoring a decent attacking option on the 2 ball in favour of a safety option would prove costly.
His subsequent weak safety unlocked the door for Alcaide to carry the instant classic to its full distance, but that effort appeared in vain when consummate shot-maker Raga committed to ricocheting the 6 to middle off the 7, deep into the deciding rack.
Raga possessed ample knowledge and imagination to sort out the shot but, when it counted, not the execution. The 6 caught the far point, stayed on the table and, excruciating pressure notwithstanding, Alcaide had a simple job to dish for glory.
It was the culmination of a memorable reestablishment among the elite for Alcaide, who breezed past Naoyuki Oi, 10-1, in the last 32 prior to eliminating, in consecutive outings, the two players situated at the apex of the WNT rankings.
Having led Sanchez-Ruiz 7-1, Alcaide had just enough in the tank to shade a firm friend he refers to as "his brother," 10-9, in the quarterfinals, before taking advantage of a subdued Shane Van Boening, 11-7, in the semifinals.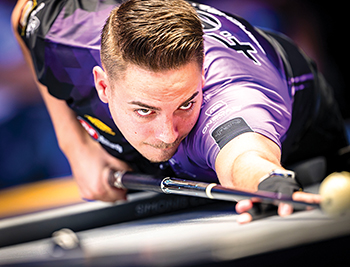 Top-ranked Sanchez-Ruiz rallied but fell to best friend Alcaide.
"You can't win one of these Opens without fighting through the draw. You know you are going to come up against talent everywhere. You just have to deal with it, believe in yourself and keep going," said Alcaide.
Raga insists big time tournament pool is now his priority and, as he discovered against Alcaide, its tension inducing facets outweigh those of money matches, regardless of the amount at stake.
"It was a big, big pressure. I was sweating so much out there. I'm dripping." said Raga, to a hearty laugh from the huge audience, whose front row was occupied by a group of Filipinos based in Oslo, Norway, inspired to attend by their countrymen's World Cup triumph a month earlier.
Raga lost his second match, 9-8, to Konrad Juszczyszyn, before reeling off eight victories, beating such notables as Neils Feijen, 8-3, Wojciech Szewczyk, 10-7, and from 6-2 down, Joshua Filler, 11-9, in the semifinals.
Yet the performance which had the practice room abuzz was his brutal 10-0 whitewash of Pin Yi Ko, the reigning World Pool Masters champion, who visited the table only twice in their last-32 contest.
Already trailing, 2-0, Ko scratched trying a jump on the 6 in the third rack. He spent the remainder glued to his chair as Raga broke and ran seven straight racks.
Maybe those folk who insist truth is stranger than fiction are onto something.
At the previous month's Spanish Open, Ko left smarting from a 10-0 drubbing at the hands of Skyler Woodward. Pen that double goose egg script, even in strike-riven Hollywood, and it would surely be rejected on the grounds of utter implausibility.
With $15,000 second place money, Raga now has a foothold in the WNT rankings. He has climbed from 172nd into the top 50, is signed up for both the U.S. Open and Asian Open, and based on his fearsome exhibition in Fulda, is equipped for membership of the sport's elite.
When 256 hopefuls congregate at a major World Nineball Tour ranking event ,a melting pot and a maelstrom of unpredictability instantly comes to the boil. Of course, reputation always counts for something but offers no shield against departure pre-single elimination.
With a quarter of the original field standing, several luminaries were sitting in a car, a plane or more likely an outbound train on the famously efficient German railroad network.
A total of 57 nations were represented at the Hotel Esperanto, just up the road from the station, where pool powerhouses such as Holland, Chinese Taipei and the Philippines had celebrated players shunted into the sidings.
Snooker champ Bingham showed his class.
Feijen, the newest member of the BCA Hall of Fame, did nothing to improve his compelling resume, while Ping Chung Ko, who had soared to ninth in the WNT rankings through winning the Sharks International Open in Manila, was not a factor either.
After losing his second-round match up to Can Salim, a German of Turkish heritage, the middle of the Ko brothers age wise went down, 9-5, against Bulgaria's Georgi Georgiev in loser's qualification.
At the corresponding stage, James Aranas, one half of the Filipino World Cup winning duo in July, was edged, 9-8, by Finland's Jani Siekkenen.
Indeed, loser's qualification was a graveyard for many a prominent potter, among them Mohammad Soufi, who continues to find elusive replication of his heroics en route to the World Pool Championship final in February. Soufi lost, 9-5, to Petr Urban of the Czech Republic.
Four balls from progress at the expense of Mika Immonen, Chris Melling miscued on an otherwise routine pot to an inviting center pocket. His grateful opponent eventually prevailed, 9-8.
Dipping his toes into the 9-ball waters for the first time, Stuart Bingham, the 2015 world snooker champion, debuted by beating Hong Kong's Lo Ho Sum, second at last year's World Masters, 9-6.
For the most part, Bingham struck the ball with considerable authority, partially offsetting his paucity of pool experience with technical smoothness.
Yet, the Englishman's inevitable lack of savvy and basic know-how proved an insurmountable handicap when beaten 9-4 by Skyler Woodward in winner's qualification.
In common with most snooker experts, Bingham cannot jump. In contrast, Norway's Mats Schjetne is decent in said department and the gulf between them in that specific skill set alone played a significant role next time out as the green baize warrior was sent packing.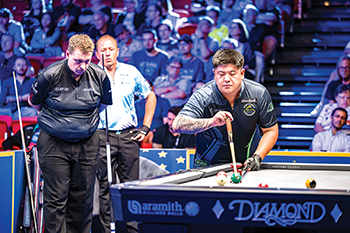 Consistent He saw another chance slip away in the quarterfinals vs Van Boening.
Even so, the 9-ball bug has been well and truly caught by snooker's Masters champion in 2020. Bingham fully intends to chance the arm again when the busy snooker schedule permits, armed with a whole new set of equipment and a keener appreciation of the minimum requirement to compete.
In light of his outstanding feats at the World Cup, many gave Johann Chua a realistic shout. Everything was going according to plan until he crossed cues with Singapore's Aloysius Yapp, who impressively controlled a contest which swiftly concluded at 10-2.
At least, Yapp's relentlessly excellence meant Chua could walk out of the arena largely free of self-recrimination, unlike Albin Ouschan, whose title defense fizzled out in the last 32.
Generally unhappy with his game for most of the year, returning to the scene of a stirring triumph failed to elevate Ouschan's form. After stumbling through a low-quality, error-strewn affair against Jayson Shaw, another struggling Mosconi Cup stalwart, Ouschan lost 10-5 to Poland's Daniel Maciol.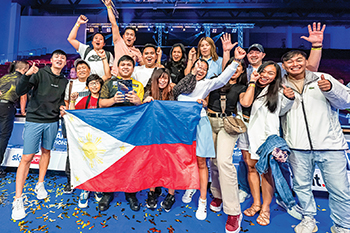 Crowd-pleasing Raga drew a healthy and boisterous Filipino cheering section to Fulda.
If Shaw, Ouschan and any other dejected early departee wished for soothing perspective, they only had to ruminate a while on the plight of their absent friend Eklent Kaci.
After winning the World 10-Ball Championship and UK Open in the first half of 2023, Kaci was firmly on the road to his most profitable year. A car accident, off-road, appears to have literally wrecked that.
Through the violent force of the impact, Kaci broke two bones in his left arm, below the elbow. No one fully knows when the bearded Albanian will resume his career but younger sibling, Kledio, indicated that big brother will likely be sidelined for months.
Whether Kaci's participation, or qualification for the Mosconi Cup is jeopardized remains to be seen, but even the most optimistic speculator should be concerned about his availability and match fitness for Alexandra Palace in December.
There is, however, no concern about the future of the European Open, its second staging a triumph. From first session to last, extremely healthy spectator numbers were recorded, and Alcaide's entertaining success could hardly have been more passionately enjoyed.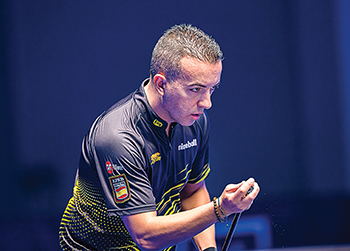 Alcaide's win moved him into the driver's seat for a Team Europe spot.
David was dynamic in Deutschland, as was the tournament itself.
*Three months after losing in the final of the Jayson Shaw Junior Open, played alongside the UK Open, Mika Van Berkel, a shining prospect from Holland, went one step further to lift the Fillers' Junior Open trophy.
Named for Joshua Filler and his wife, Pia, who presented the silverware, the event attracted 52 entries of which 17 year-old Van Berkel was the pick. He beat Ivan Rudenko of the Ukraine, 9-5, in the semifinals and Sweden's Walter Laikre, 9-4, to pocket $2,500.