Headstring News
Manalo Mangles Morris in IPT East-West Showdown
Mar 5, 2008, 4:10 PM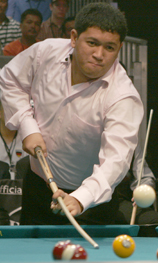 Manalo got all the breaks.
Marlon Manalo of the Philippines dominated an error-prone Rodney Morris to win the second International Pool Tour East-West Challenge on Tuesday night, 15-10.

Morris of the United States started strong in the match, broadcast live from Los Angeles on the IPT's Web site, but began to roll into trouble midway through the match, unable to accurately gauge the table's speed.

"I couldn't get my cue ball anywhere I wanted," Morris said after the match. "I was losing the cue ball every time, … and almost every time it was when I was trying to get on a key ball."

The self-effacing Manalo allowed that he received some favorable rolls near the end of the match, and praised Morris' play overall. "We were just getting started," he said after his $5,000 victory.

Manalo's victory gives the Philippines a 2-0 record so far in the IPT's East-West Challenge forum. Francisco Bustamante beat America's Cory Deuel, 15-8, in a Jan. 23rd match held in Chicago.

Video of the Manalo-Morris match will be available on the IPT Web site at www.internationalpooltour.com.