Headstring News
Petroni is Hospitalized After Injuring Himself
Mar 13, 2008, 6:04 PM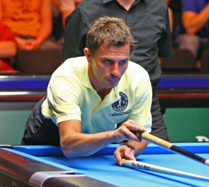 Petroni was hospitalized after banging his head against the table in his first-round match.
KING OF PRUSSIA, PA. — In an unbelievable scene at the Diamond Open 9-Ball Professional Players Championship at the Allen Hopkins Super Billiards Expo, Fabio Petroni has been hospitalized after injuring himself in his 3:30 p.m. (EST) match against Gabe Owen.

Petroni, a 35-year-old native of Italy, was trailing Owen, 6-2, in the first-round match. At approximately 4:15 p.m. (EST) with Owen lining up a shot on the 9, Petroni approached the table, knelt down and repeatedly smashed his head into the corner of the Diamond 9-foot table. He then stumbled back to his chair as blood began to cover his face.

Paramedics were called within minutes, while Petroni was taken outside the tournament area and had his faced wrapped in towels. He appeared to remain conscious the entire time and was alert and speaking with the paramedics, who arrived at approximately 4:45 p.m. Petroni was taken to a hospital in nearby Montgomery, Pa., for further observation.

His opponent in the otherwise uneventful first-round match, Owen was completely shocked by the unbelievable scene that unfolded right in front of him.

"I was lining up my shot on the 9, then he jumps out of his chair," Owen said. "I thought he was going to give me the 9 and forfeit the match. … But then he slams his head into the corner of the table as hard as you can do it. Then he manages to get back to his seat and blood is flying everywhere. As soon as he raised his head up, you could see blood was all over his face."

Petroni's injuries were clearly evident, and the match was awarded to Owen. Petroni, considered a tough player who will stand up to opponents, has no known history of such outbursts in professional tournaments.

Prior to the incident, Owen and Petroni spoke to each other very little during the first nine-plus games. Petroni had missed a couple of shots, but he did not show any signs of frustration that would be considered abnormal.

"It wasn't like he [had] just missed," Owen said. "I was running out from the 2 ball, then he just jumped up from his chair."