Headstring News
Shane's Reign Continues: Van Boening Bests Wilkie in Valley Forge
Mar 17, 2008, 12:21 PM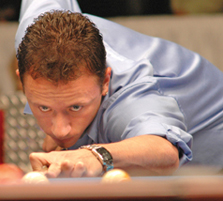 Van Boening surged ahead with a 7-game run.
The surging locomotive that is Shane Van Boening continues to steam through the tournament schedule and leave all challengers in a plume of smoke. The latest stop was the Diamond Open 9-Ball Pro Players Championship, and the victim on Sunday night was upstart regional-tour whiz Shaun Wilkie.

Van Boening, the leading prize-money winner for the year so far on the men's circuit, pocketed another $10,000 with his 13-7 win over Wilkie, the Tiger Tour Player of the Year. The two-hour match seemed closer than the final score indicated, as the two lanky, 20-something foes made few errors and were separated by only a few ill-considered shots.

"Shaun played real good all week; I was surprised," Van Boening, 24, said afterward.

The 27-year-old Wilkie actually entered Sunday's final in the hot-seat, having upset Van Boening in the winners-bracket final on Saturday night, 10-9. Two uncharacteristic lapses by Van Boening in the last two games gave Wilkie a wide opening. Leading 9-8, Van Boening hooked himself on the 6 and then whiffed on a kick; Wilkie cleaned up from there. And at 9-9, Van Boening failed to hit a rail on a touchy safety, leading to a Wilkie runout.

"He gave me ball and hand, but still it was a tough runout to make, because I haven't been at that point yet in my career," Wilkie said.

Sunday's rematch in the final came after Van Boening battered a distracted Rodney Morris in the losers-side final, 10-3. Van Boening won nine straight games as Morris fumed over fumbled shots and unfavorable rolls.

"I made a lot of frustration errors there," Morris said afterward. "I took my eye off the 3 ball when I was leading 3-2, and that's when everything went south."

Wilkie, of nearby Havre de Grace, Md., took a 4-1 lead in the final, to the delight of the largely partisan crowd at the Valley Forge Convention Center in King of Prussia, Pa. But Van Boening knotted the score at 4-4 in the eighth game, after Wilkie twice failed to convert chancy combinations on the 9.

Van Boening then shot ahead to 8-4, riding some hot shooting, tight safety play, and Wilkie's flat-out choke on the 9 in the sixteenth game. From that point, Wilkie could only play catch-up — a tough order in the alternating-break format.

The closest Wilkie came was 11-7, running out to reduce the deficit to three games. He tried to force in the 8, and the sternly hit ball rocketed off the pocket. Van Boening mopped up the rack, and then nailed a nifty cross-side bank on the 2 in the next game to clear the way to victory.