Headstring News
Locked & Loaded: The Action Report to Host the Young Guns Challenge
Mar 19, 2008, 11:19 AM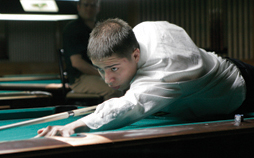 Morra aims at topping fellow rising star Justin Bergman in Olathe, Kan.
In the latest match arranged by TheActionReport.com, two of the hottest young players in the country will match up in a three-day battle for $20,000 that's being tabbed "The Young Guns Action Challenge."

John Morra, former BCA Junior National champion in 2004 and points leader on the Canadian 9-Ball Tour, is becoming a seasoned road player, in spite of being just 18 years old. He will face 20-year-old Justin Bergman, a three-time junior nationals champion who's developed into a well-respected money player.

The two will lock up in a 10-ball race-to-100 on a 9-foot Diamond table, set for March 21-23 at Shooters in Olathe, Kan. Bergman and Morra will play on Friday until one of them reaches 30 games, then on Saturday until one reaches 60. The action will continue on Sunday night until someone hits triple-digits and takes down the $20,000.

The match was set up by The Action Report, a production outfit specializing in streaming action matches over the Internet. For this match, both players will post $10,000, with the winner doubling his money.

Information on the Action Report's pay-per-view broadcast can be found at www.theactionreport.com . Past matches (such as the Shane Van Boening-Alex Pagulayan match from the Derby City Classic) also can be purchased on DVD from the Web site.