Headstring News
Generation Next: BCA Launches Revamped Web Site
Mar 20, 2008, 1:01 PM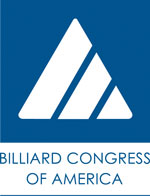 The BCA hopes GenerationPool.com can attract new consumers to the billiards industry.
The Billiard Congress of America announced last week that its new consumer-directed Web site, GenerationPool.com, is up and running.

Hoping to promote the sport by attracting the attention of players at all skill levels, the BCA packed the Web site with information geared toward any would-be consumers.

Visitors can find a pool hall, retail location, manufacturer or instructor. There is also instructional content available, including trick-shot videos, Q&A's with pro players and industry-related news.

"Our membership is looking to the BCA to help promote the sport and grow the industry," said BCA President Ivan Lee. "Today's ever-changing world focuses on consumers being able to obtain their information and make buying decisions via the Internet."

At the 2008 International Billiard & Home Recreation Expo (scheduled for June 12-14 in Charlotte, N.C.), the BCA is planning to hold a seminar instructing members how to utilize GenerationPool.com as a marketing tool.