Headstring News
BEF Has Super Expo at Valley Forge
Mar 24, 2008, 11:17 AM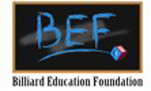 Among the chaos of Allen Hopkins Super Billiard Expo, the Billiard Education Foundation was able to raise $2,300 that will help support the BEF scholarship and junior programs.

At the expo — held March 13-16 at the Valley Forge Convention Center in King of Prussia, Pa. — the BEF received plenty of support from industry professionals and players. Brunswick Billiards provided a pool table that raised money through a raffle. Also, Dawn and Allen Hopkins gave the BEF a free booth.

Throughout the week, professional players stopped by the BEF booth to lend a hand in the fund raising. Artistic pool stars Andy Segal, Bruce Barthelette and Tim Chin; WPBA players Ga Young Kim and Allison Fisher; and UPA players Mika Immonen, Mike Jackson, Raj Hundal and Tim Hill were a few of the many players who turned out to help the BEF.

The Brunswick table was won by Pam Burns of Conowingo, Md. Burns said she is ecstatic about the opportunity to play pool at home with her 15-year-old son, Dustin Majerowicz. Dustin will be practicing and intends to qualify for the 2008 BEF Junior National 9- Ball Championships, set for July 10-13 at the University of Arizona in Tucson, Ariz.

The BEF would like to wholeheartedly thank everyone whose donations, time and commitment help to build youth billiard programs and support the future of our sport.

For more information about the BEF, please visit www.BilliardEducation.org, or contact Laura Smith at 303.926.1039 or laurasmith@billiardeducation.org.