Headstring News
IPT Ramps Up "Viewers Choice"
Mar 25, 2008, 11:18 AM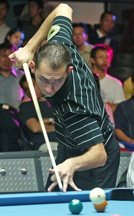 Foldes is a favorite to clinch a spot in the April 29 match.
Just two weeks of voting remain for the International Pool Tour's "Viewer's Choice Challenge Match." The two players in the match — scheduled for April 29 — will be determined by online votes cast on the IPT's Web site.

With a basic membership — which can be obtained free of charge by providing a valid e-mail address — an interested party can vote twice daily. Premium members are allowed to cast 10 votes per day.

Voting will be open through Tuesday, April 8. The next morning, the IPT will announce the two players who received the most votes.

Currently, Vilmos Foldes of Hungary is leading all vote-getters. Benefitting from some Internet exposure in Hungary, Foldes has claimed a commanding 13.24-percent share of all ballots cast.

Austrians Jasmin Ouschan and Gerda Hofstatter are right behind Foldes. The only other IPT pros with a double-digit percentage of votes, Ouschan (11.2 percent) and Hofstatter (10.1 percent) are also riding a wave of support from their countrymen.

Hall-of-Famers Efren Reyes and Earl Strickland round out the top five.

For voting information and real-time standings, visit www.internationalpooltour.com.