Headstring News
It's Schmidt vs. Ortmann in IPT Under-Card
Mar 28, 2008, 6:55 PM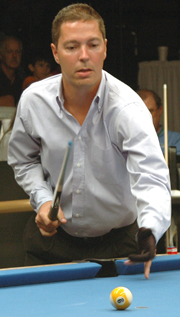 Schmidt (pictured) will have his hands full with Ortmann.
Straight-pool virtuosos John Schmidt and Oliver Ortmann will face off in a special race-to-125 under-card match to precede the International Pool Tour's much-anticipated "Viewers Choice" challenge match airing live online on April 29.

Schmidt —known as "Mr. 400" for his long runs in 14.1 — is certainly among the top straight-pool players in the U.S. Ortmann of Germany is perhaps the top player in the world, having won the BCA U.S. Open 14.1 Championship twice (1989, 1993), the 2007 Predator World 14.1 Straight Pool Championship, and the European Pool Championships straight-pool division an amazing five times.

Meanwhile, voting continues for the IPT's Ultimate 8-Ball "Viewers Choice" match. Players in the match will be chosen by fans voting online at the IPT's Web site at www.internationalpooltour.com. The deadline for registering votes is midnight, April 11. The two matches on April 29 will be available free of charge on the site.