Headstring News
IT'S LIVE: BilliardsDigest.com With More Pool Tips, Vids, News & Views!
Apr 1, 2008, 8:33 PM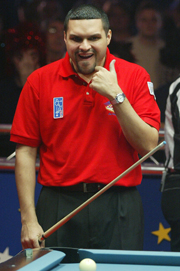 House Pro Robles kicks off the "Tips & Instruction" section.
As you can see, BilliardsDigest.com now has even more pool instruction, advice, breaking news, and videos of the greatest shots and matches of the last three decades.

Celebrating its 30th anniversary, Billiards Digest today launches a redesigned and enhanced website with features vital to pool fans. Upgrades to the site — www.billiardsdigest.com — include:

• "Tips & Instruction" section, featuring Tony Robles' "BD House Pro" column; drills to practice; and major features on topics like breaking and staying in stroke.
• New video features — "PoolDawg Stroke of Genius," sponsored by PoolDawg.com, and "30 Over 30," presented by Predator Cues — showing great shots and matches from Accu-Stats Video Productions, ESPN, WPBA, Matchroom Sport, and Billiards International.
• "Web Gems," the best billiard videos found on the Internet.
• New entries and full archives from Jeanette Lee's "Dear Jeanette" advice column, monthly columns by "Tips & Shafts" writer George Fels, and a regular news blog.
• New articles on pool history, equipment care, and more.
• Daily news reports in the Headstring News column.

Our restyled site also spotlights the Forums section, providing links to the most active threads on the Cue Chalk Board forum directly from the billiardsdigest.com home page.

"We want billiardsdigest.com to reflect all of the great improvements we've made in the magazine in the last year, including new columnists like Tony Robles, new video-based features, more aggressive news reporting, and a streamlined design," said BD Managing Editor Mason King.

The revamped site retains all of the time-tested features, including the "Pool on TV" calendar, tournament listings, the "Untold Stories" billiard history column, and the "PoolDawg/BD Power Index."

Billiards Digest celebrates its 30th anniversary this year — the inspiration for the "30 Over 30" video feature, sponsored by Predator Cues. Every month in the magazine and on the website, BD's editors count down the 30 greatest tournament-final matches of the last three decades, including video from most of the sets. The April issue covers matches 21-19. The top two matches will be revealed in the December issue.