Headstring News
IPT Ups the Ante in "Viewers Choice"
Apr 3, 2008, 11:24 AM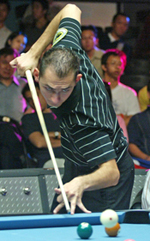 Hungary's Vilmos Foldes still claims a commanding lead.
The International Pool Tour has taken the hook to its April 29 "IPT Ultimate 8-Ball Viewers Choice" online match and super-charged it. Voters now have the ability to register as many as five votes per day in the promotion, which will choose the contenders in the live contest.

In addition, the field of potential contenders has been narrowed to the 50 most popular players so far. The current leader is Hungary's 23-year-old Vilmos Foldes, reportedly riding an aggressive media campaign in his home nation that has sent countrymen scrambling to the online polls. Hall-of-Fame Efren Reyes of the Philippines is gaining ground and now in second place.

Interested parties can log their votes on the IPT web site — internationalpooltour.com — with the requirement of registering for a free basic membership to the site.

The deadline for voting is midnight, April 11.