Headstring News
Women's World Field Now Cut to 24
Apr 4, 2008, 11:28 AM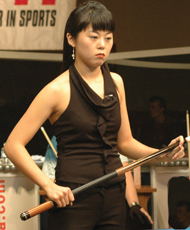 Ga Young Kim cruised into top 24 with a 4-1 record.
Most of the top names on the WPBA Classic Tour have made the first cut to a field of 24 at the Amway Women's World 9-Ball Championships, with Allison Fisher, Jeanette Lee and Ga Young Kim leading the way for the players who make their careers in the U.S.

But the big story at the Championships, taking place through Monday in Taiwan's capital city of Taipei, is the utter dominance of Asian players. Six of the top eight seeds determined so far all hail from across the Pacific, led by perennial Taiwanese powerhouse Shin-Mei Liu.

The field started at 48 players, arranged into eight groups for round-robin play — with the top 24 headed into single-elimination play. (The top eight seeds — the winners of each of the eight groups — get a bye in the first round.)

Those with a spot in the final 24 by virtue of their round-robin records include WPBA veterans Ga Young Kim (4-1), Jeanette Lee (4-1), Gerda Hofstatter (3-2), Allison Fisher (3-2), and Line Kjorsvik (2-3). Classic Tour stalwarts Kim White (2-3), Sarah Ellerby (1-4) and Belinda Calhoun (2-3) did not make the cut.

As of this writing, two groups had yet to complete play, with WPBAers Kelly Fisher (3-1) and Anna Kostanian (2-2) still batting for a spot in the final 24. Jasmin Ouschan of Austria, believed by many to be the next dominant player in women's pool, also headed into her final match with a 3-1 record.

The winners of each of the six finished brackets all hailed from Asian nations, and the five undefeated players — Shin-Mei Liu, Yuan-Chun Lin and Xiao-Chi Lin — all hailed from host country Taiwan.