Headstring News
Taiwan's Lin Beats Korea's Kim for World 9-Ball Title
Apr 6, 2008, 11:58 AM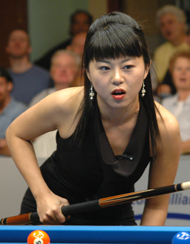 Kim could only watch as the title match slipped away.
Taiwan's Yuan-Chun Lin survived a hill-hill nailbiter against England's Allison Fisher and then soundly defeated Ga Young Kim of Korea to take the title of the Amway Women's World 9-Ball Championships on Sunday.

Lin went undefeated in both the round-robin and single-elimination portions of the event, sanctioned by the World Pool-Billiard Association and taking place in Taiwan's capital city of Taipei.

Lin started Sunday with a 7-5 victory over Jeanette Lee (USA) in the event's quarterfinals. She advanced to the semis to meet Fisher, who had dashed the hopes of undefeated Xiao-Chi Lin of Taiwan, 7-2, in the quarters.

Lin took a 4-1 lead in her race-to-9 match against Fisher, but the WPBA's reigning No. 1 player quickly knotted the tally, 4-4. They then essentially traded racks, leading to an 8-7 advantage for Fisher. But an ill-timed miss brought Lin back to the table, allowing her to capture the game and then the next rack for the 9-8 win.

Meanwhile, in the other semifinal, Kim struggled early against Austria's Jasmin Ouschan, but recovered to win the last six racks — and the match, 9-6.

In the race-to-11 final, Lin got off to a quick start, rolling to a 5-1 lead against Kim. The Korean ace evened the score at 7-7, but then Lin went on a tear, winning four consecutive racks for an 11-7 victory.

The two players had met before in the finals of the women's 8-ball division of the 2006 Asian Games, with Lin also winning that contest, 7-6.