Headstring News
New Season Begins for WPBA
Apr 11, 2008, 1:33 PM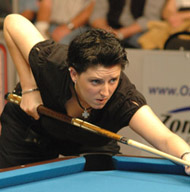 Fisher is three for her last three at the Viejas Casino.
Amid some in-house remodeling at the first WPBA Classic Tour event of 2008, one thing is for sure: Kelly Fisher is the woman to beat at the San Diego Classic.

Fisher is in search of her fourth-straight victory at the Viejas Casino. And a day into this year's event, she looks to be in top form. Fisher easily dispatched Gail Grecar, 9-2, then edged super-talented Jasmin Ouschan, 9-7. She will face Anna Kostanian this evening for a spot in the final 16.

The 2008 WPBA Classic Tour is a bit different from the version that closed out '07. This year, rankings will be completely reset to zero. The points system, usually a cycle involving the 10 most recent tournaments, is now a clean slate — meaning the winner of the San Diego event will be the new No. 1.

Also, the Classic Tour is holding an event without PL Promotions at the helm. In December, PL Promotions — headed by former WPBA player and president Peg Ledman — terminated its contract with the WPBA.

The WPBA Board of Directors is still looking for a management firm. In the meantime, the board hired TSI Events, a sports-related operations company, to handle on-site logistics. Administrative and organizational duties will be handled by a cadre of long-time Classic Tour associates, including WPBA Board members Dawn Hopkins and Melissa Herndon.

As far as the on-table action at the San Diego Classic, play kicked off Thursday afternoon. After two rounds, many of the heavy hitters advanced without incident.

Allison Fisher and Karen Corr faced little resistance, not allowing an opponent past two games.

Jeanette Lee, fresh off her fifth-place finish at last week's Amway World Women's Championship, dropped her opening match to Line Kjorsvik, 9-7. Other big names on the left side include Kim Shaw, Helena Thornfeldt and Ouschan.