Headstring News
Final Four Set in San Diego
Apr 13, 2008, 3:02 PM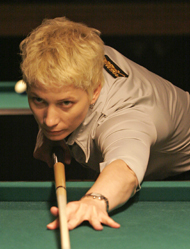 Perennial contenders Allison Fisher and Karen Corr will meet in the semifinals of the WPBAís San Diego Classic on Sunday, while Ga Young Kim faces Gerda Hoftsatter, who was responsible for eliminating the eventís defending champ.

Hofstatter stunned the whole field with her 9-6 quarterfinals victory over Kelly Fisher, who won the event in 2005, 2006 and 2007. Kim had a slightly harder time with Sarah Ellerby in that round, trading games until a quick burst at the end secured a 9-7 victory.

Although consistently ranked in the WPBA's top 10, Hofstatter has not reached the final four since the West Coast Classic in April 2005.

Corr had a smoother path to the semis, ending an impressive run by up-and-coming star Anna Kostanian, 9-3, in the quarterfinals. Kostanian handed Kelly Fisher her first loss in the double-elimination phase of the event, 9-7, and easily handled the tough My-Hahn Lac in the round-of-16, 9-2.

Allison Fisher is undefeated at the event, pulverizing her first several opponents ó Melissa Morris, 9-1; Jennifer Barretta, 9-1; Vivial Villarreal, 9-4; and Cathy Metzinger, 9-2 ó before toughing out a 9-7 win over Helena Thornfeldt in the quarters.

Play at the Classic will finish with the finals Sunday at Viejas Casino in San Diego. Because the WPBA has reset ranking points at zero, the winner of the event will automatically be the tourís No. 1 player.