Headstring News
Fisher Stays Atop WPBA Rankings
Apr 14, 2008, 11:35 AM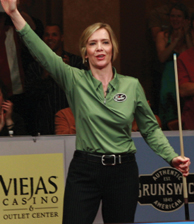 Fisher — Allison, not Kelly — won in San Diego. (Photo by Ashi Fachler)
With the WPBA's resetting of the points rankings, the San Diego Classic began with all 64 players equal in the rankings. In the end, the new No. 1 was the same as the old, as Allison Fisher snapped off the Classic Tour's first event of 2008.

In the quarterfinals, Kelly Fisher, who won the event the last three years, was upset by Gerda Hofstatter, 9-6, in the quarterfinal. Hofstatter then topped Korea's Ga Young Kim in a hill-hill semifinal to make her first appearance in a WPBA final since the 2005 West Coast Classic.

Allison Fisher cruised through the early rounds without incident. After dominating Cathy Metzinger in the round of 16, Fisher eked past Helena Thornfeldt, 9-7, then barely snuck past Karen Corr in the semifinal, 7-6.

Hofstatter, consistently in the top 10 on the Classic Tour's rankings, stayed close to Fisher in the race-to-7 final, but couldn't keep up, dropping the match, 7-4.

With the win, Fisher remains on top of the WPBA rankings. The San Diego Clasic is the first event in a new ten-tournament cycle.