Headstring News
Reyes, Murphy Set for IPT Showdown
Apr 15, 2008, 6:19 PM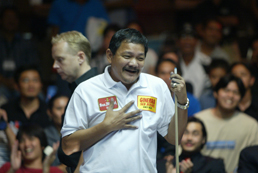 Reyes (above) was winning major titles years before his IPT opponent was born.
On March 10, the International Pool Tour launched voting for its "Viewers Choice Challenge Match." After a month and a day of online voting, the polls closed at midnight on April 11. Efren Reyes and Austin Murphy were the top vote-getters, resulting in a matchup of contrasts.

It should be a shock to nobody that Reyes was among the top of the list. Not only is the 53-year-old Filipino among the greatest players of all time, but he is also a fan favorite all over the world.

Murphy, a 14-year-old pool virtuoso from California, finished in a close second in voting — netting 23.1 percent to Reyes' 23.93 percent. Though undeniably talented, Murphy is a surprise, gaining such widespread support in a field full of Hall of Famers and living legends.

In 2006, Reyes snapped off the IPT World Open in Reno, Nev., taking home the first prize of $500,000. Murphy, 13 years old at the time, won one match and pocketed $5,000 for his performance.

Early in the IPT online voting, Hungarian Vilmos Foldes appeared to be a lock for a spot in the one-on-one match. Boosted by media coverage in his home country, Foldes lead in the polls for a majority of the time. Reyes and Murphy, however, steadily gained momentum, possibly due to the increase in the votes-per-day available to IPT members.