Headstring News
World Straight Pool Returns to Jersey
Apr 16, 2008, 6:04 PM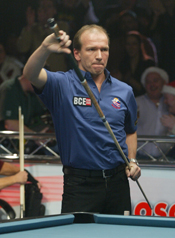 Ortmann be gunning for his ninth major straight-pool title.
For the third year running, the Predator World 14.1 Straight Pool Championship will take place in the Grand Ballroom at the Hilton East Brunswick in New Jersey. The 2008 edition — once again run by Dragon Promotions — has been scheduled for Aug. 24-30.

The World 14.1 Championship is sanctioned by the World Pool-Billiard Association (WPA). Last year's champion, Oliver Ortmann will be in search of his ninth major straight-pool title. In addition to last year's world championship, Ortmann has collected five European Championships and two BCA U.S. Open crowns.

The event will be sponsored by Michael Fedak and Joel Shapiro, two straight-pool enthusiasts from New York.

"The World Straight Pool Championships has a very rich history, full of tradition and legend," Fedak said. "The players who play straight pool today can, by attending this event, pay homage to the game and its champions of the past."