Headstring News
Fisher to Lead Top Women at Predator 10-Ball Event
Apr 18, 2008, 12:47 PM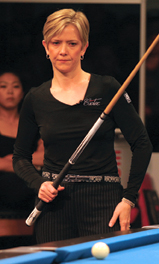 Fisher will be a frightening draw for anyone at the 10-Ball Championship.
Allison Fisher and Gerda Hofstatter — the WPBA's top-ranked players — will lead a team of tough female competitors in the male-dominated 8th Annual Predator International 10-Ball Championship, to be held May 12-17 in Las Vegas, Nev.

In 2007, the event hosted a handful of female players. This year a total of six talented women will enter the field against 90 male entrants. Fisher is no stranger to competing with male pros, having bested world-class players such as Johnny Archer, Allen Hopkins, Charlie Williams, and Tommy Kennedy in major events.

"I have not competed at 10-ball and I am looking forward to the challenge," Fisher said. "I think I can do very well in the event, as I have enjoyed some good results in the past against top men players. I don't plan on making it easy for anyone."

Other top women entrants in the international event will include Gerda Hofstatter of Austria, Korea's Yu Ram Cha, American Sarah Rousey, Amalia Matas of Spain, and Japan's Yukiko Hamanishi.

Fisher has been dominant in women's pool worldwide for the past 20 years. She defeated Hofstatter in the finals of the WPBA's San Diego Classic on April 13, making them the Nos. 1 and 2 ranked players on the tour. Rousey is a highly regarded American; Cha, Matas, and
Hamanishi are all considered to be the best women's players in their respective countries.

"The level of play of the women has dramatically improved over the past five years," said event producer Charlie Williams. "As far as Allison Fisher goes, I can almost guarantee most of the men don't really want to draw her in the event."

The 8th Annual Predator International 10-Ball Championship will be held in conjunction with the BCAPL National 8-Ball Championships. Matches will begin on May 13 at the Riviera Hotel & Casino. Tickets are on sale online at www.playbca.com.

The Predator International 10-Ball Championship is produced by Dragon Promotions. The event is hosted by the BCA Pool Leagues at the Riviera Hotel & Casino and sponsored by Seyberts.com, Diamond Billiard Products, Simonis Cloth, Extreme Focus Sports Drink, and The PredatorGroup. The event will be covered daily by Kozoom.com.