Headstring News
World 8-Ball Field Narrows to Final 32
Apr 21, 2008, 3:20 PM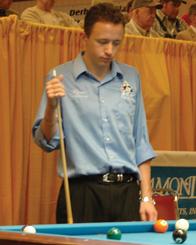 Van Boening has sights set on a world title.
Four days of play have ended, and the field has been halved to 32 at the Damas World 8-Ball Championship at the Expo Center in Fujeirah, United Arab Emirates.

Many of the big names in the field of 64 advanced without incident. Leading the way was China's teenaged superstar and former 9-ball world champion Wu Chia-Ching. In two matches, Wu never let an opponent drop an 8 ball. He blanked both Sayeem Hossain of Bangladesh and Holland's Huidji See, 8-0, to advance.

The Filipinos are led by Ronnie Alcano, Warren Kiamco and Elvis Calasang. All three advanced to the final 32 without a loss.

Of the three American hopefuls, only Shane Van Boening is still alive. Ronnie Wiseman went two-and-out, dropping a pair of matches to shooters from the Netherlands. Wiseman was outclassed by Niels Feijen, 8-1, in the opening round. He then lost a hill-hill heartbreaker to See, 8-7.

Corey Deuel topped Darren Appleton in his first match, 8-4, but was sent left by Marcus Chamat. The Swede looked impressive in an 8-3 victory over the American. Deuel's world championship came to an end today, when he was dominated by Mosconi Cup opponent Konstantin Stepanov, 8-2.

Jasmin Ouschan, the only female in the field, was the last to secure her spot in the final 32. She stopped a late run by Appleton and won Monday's final match, 8-6.

Because there is no WPA-sanctioned world title for women in 8-ball, Ouschan was allowed to compete in qualifying events. She earned her spot in the final field by winning qualification in Paris.

Play will resume on Wednesday, with each of the 16 undefeated players drawing an opponent from the one-loss side. The format is now single-elimination, with matches being race-to-10. (Tournament schedules and brackets are available at www.wpa-tour.com) The final, which will be a race-to-13, is set for Friday, April 25, at 4 p.m. local time.