Headstring News
Predator Pool School Boasts All-Star Faculty
Apr 22, 2008, 6:15 PM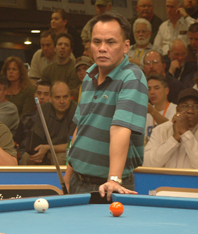 Bustamante will join his compatriot Reyes at the clinic.

The Predator Pro Pool School — scheduled for May 21-22 at Top Hat Gameroom in Jacksonville, Fla. — boasts a list of instructors that might know a secret or two about the game.

Efren Reyes, Francisco Bustamante, Tony Robles and Thorsten Hohmann are all scheduled to appear for the two-day class.

Limited to 20 students, the Pro Pool School costs $1,500 for 16 hours of total instruction from the world's best.

For more information, contact Dragon Promotions by calling (407) 782-4978, or e-mail propoolschool@gmail.com.