Headstring News
WPA 8-Ball: Now 4, Soon to be 2
Apr 24, 2008, 12:06 PM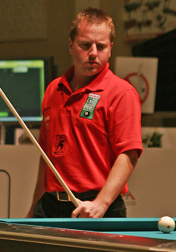 Chamat is in top form entering his match with Souquet.
The four quarterfinal matches have just wrapped up at the Damas World 8-Ball Championship in Fujairah, United Arab Emirates. Entering play this afternoon, the bracket had players divided by geography — Filipinos on one side, Europeans on the other.

Warren Kiamco and Dennis Orcollo squared off, with the winner facing the survivor of the match between Ronnie Alcano and Italian Bruno Muratore.

The other half of the bracket featured Ralf Souquet facing English 8-baller Chris Melling and Sweden's Marcus Chamat against Dimitri Jungo.

Chamat, who has been rolling in the single-elimination phase of the tournament, kept his momentum against Jungo. He jumped out to an early lead against the rising star from Switzerland. In control throughout, Chamat closed it out, 10-6, to move into the final four.

The other European matchup between Souquet and Melling was a no-doubter. The inexhaustible Souquet was in rhythm from the start, coasting to a 10-3 win.

On the Filipino side of the bracket, Orcollo and Alcano both advanced without much drama. The semifinal matchup will be a repeat of last year's final, with the two roommates and good friends battling for a spot in tomorrow's final.