Headstring News
World 8-Ball Finalists: Alcano, Souquet
Apr 24, 2008, 4:26 PM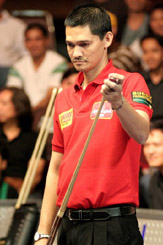 Alcano is 13 racks away from defending his title.
For the second time in 17 months, Ronnie Alcano and Ralf Souquet will meet in the final match of a world championship event — this time at the Dumas World 8-Ball Championship.

For the Kaiser, the hope is for redemption, after Souquet lost the 2006 World Pool Championship to the lanky Filipino in a fairly lopsided affair.

Alcano, meanwhile, is hoping to hold onto what is his. Losing his world 9-ball title with a disappointing 33rd-place finish in November, Alcano is one match away from a repeat as the king of 8-ball.

In the two semifinal matches this evening in Fujairah, U.A.E., both men survived incredibly close contests. Alcano squared off with countryman Dennis Orcollo, whom he beat in last year's 8-ball final.

Alcano looked in complete control from the start, jumping to a 6-1 lead. A few racks later, he was up 8-3. But Orcollo got rolling when he needed to most. He took six straight games to reach the hill first, 9-8. Alcano, however, was not phased by the streak. He buried the final two 8 balls for a hard-earned 10-9 victory.

Souquet, meanwhile, was grinding away against Marcus Chamat. While the Filipinos raced through racks, the two Europeans set a slow, steady pace.

Chamat took an early lead, winning the first three. Souquet answered with five straight for a 5-3 advantage. From there, the two went back and forth, locking up at 7-7. Souquet took two to get on the hill, and ended it before Chamat could answer, 10-8.

The race-to-13 championship match is scheduled for tomorrow evening at 5:30 p.m. local time (8:30 a.m. EST).