Headstring News
Q-Master To Host Summer Jamboree
Apr 25, 2008, 11:24 AM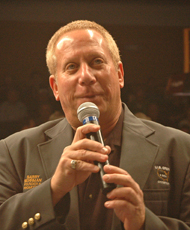 Behrman has plenty of experience with running tournaments.
The legendary Q-Master Billiards in Virginia Beach, Va., will host an open 9-ball tournament on July 26-27. The $2,000-added guaranteed tournament will have a $10,000 total purse with a full field of 64 players.

The event will be a double-elimination bracket, with all matches being race-to-9. The entry fee for all players is $125.

U.S. Open founder and promoter Barry Behrman will be the tournament director.

Q-Master has 31 9-foot tables that will accomodate tournament play — four Diamond Professional, five Diamond Smart and 22 Brunswick Gold Crown tables.