Headstring News
WPA 8-Ball World Champion: Souquet
Apr 25, 2008, 1:16 PM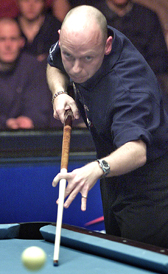 Souquet avenged his '06 World 9-Ball loss to Alcano.
In the final match at the 2008 Dumas World 8-Ball Championship, Ralf Souquet led from start to finish, but it wasn't so easy for the industrious German. Ronnie Alcano repeatedly closed in on the Kaiser, but could never pull even. For Souquet, it was a case of bending without breaking.

Souquet jumped to an early 3-0 lead in the race-to-13 final. Alcano, the reigning champion, played catch-up the rest of the match but was unable to draw even. The Filipino star closed within a game only once at 10-9.

From there, Souquet made the run that would earn him his first world title in 8-ball. He collected the final three racks in the alternating-break format for a 13-9 win.

The total purse was $200,000, with Souquet taking a hefty $60,000. Alcano received $20,000, while semifinalists Dennis Orcollo and Marcus Chamat each took home $10,000.

The world title is Souquet's second major title of the year. He also captured the Derby City 9-Ball division in January.