Headstring News
IPT: Schmidt Runs Out, Reyes Rolls
Apr 30, 2008, 11:18 AM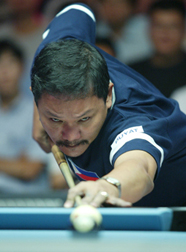 Efren overcame an inconsistent break for an easy win.
In the main event at the IPT Viewers Choice Challenge Match last night, Efren Reyes cruised to a 15-6 over Austin Murphy, despite only pocketing balls on the break a few times.

Reyes, the 53-year-old Filipino legend, was in control from the start. Up 4-2 in the race-to-15 match, Reyes then won the next seven games to build an insurmountable 11-2 lead. Murphy, who was an IPT Pro at 12 years old and is now 14, then took three games late to get to six.

Early in the match, Reyes had trouble with his break, either pocketing balls and scratching or coming up dry. However, Murphy couldn't seem to settle into his game and had trouble navigating the open tables.

Though without a reliable break, Reyes made difficult runouts look easy, breaking up clusters and playing near-perfect position with the cue ball.

The undercard match, which featured straight-pool masters John Schmidt and Oliver Ortmann in a race-to-125, was the first IPT event that strayed from the normal game of 8-ball.

Schmidt, who earned the nickname "Mr. 400" after two legendary runs, lost the lag. The reigning straight-pool champ, Ortmann then ran 22 but then erred on a relatively easy shot. Schmidt then uncorked a run of 84, that put the pressure on the German.

Schmidt continued to inch towards the finish line, reaching 122 when Ortmann started to gather momentum. With his comeback run at 45, Ortmann scratched on the break, drawing the cue ball back up table and into the corner pocket. From there, Schmidt cleaned up three balls for the 125-74 win.