Headstring News
Up Next for the IPT: Pagulayan & Boyes
May 2, 2008, 6:20 PM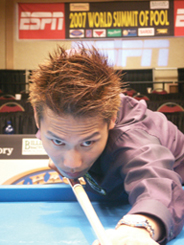 Pagulayan will face Boyes, a new arrival on the international pool scene.
The International Pool Tour has announced that its next set of one-on-one challenge matches will take place on June 24 at 8 p.m. (EST). The main event will match Alex Pagulayan of the Philippines against Karl Boyes, a rising star from the United Kingdom.

The undercard match will be chosen by the viewers through voting at the IPT Web site at www.internationalpooltour.com. Currently, the IPT is conducting a poll to see if pool fans want to see a match up between Hall-of-Famer Mike Sigel and John Schmidt, who topped reigning 14.1 world champion Oliver Ortmann in the undercard match of the first Viewers Choice Challenge Match held Tuesday night.

Doing commentary for the Schmidt-Ortmann match with IPT founder Kevin Trudeau, Sigel implied he could beat Schmidt in a match. Schmidt, considered one of the top straight-pool talents in the world, responded in post-game comments by saying he would play Sigel whenever he wanted.

The main event between Pagulayan and Boyes is scheduled for a race-to-15 set of 8-ball. A former world 9-ball champion, Pagulayan is one of the most popular professional players. Boyes, who posted a surprise third-place finish at the 2007 World Pool Championship, is one of the handful of British players to post top finishes at major events in the last 12 months.

The IPT matches held on Tuesday, April 26, attracted 13,744 viewers for at least part of the broadcast. According to ITP officials, this represents a significant increase in viewers.