Headstring News
Harriman's Heroics Give Him Edge at Action All-Around
May 3, 2008, 5:34 PM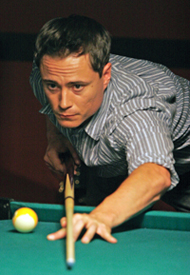 Harriman posted monster runs of 130, 122 and 101.
Danny Harriman made up a 165-point deficit in his straight-pool match with John Schmidt to take the advantage Friday in the $20,000 "TheActionReport Action All Around 2" two-man challenge at Side Pockets in Kansas City, Mo.

The two players kicked off the multidiscipline event Friday with a race-to-400 set of straight pool. Harriman scratched on the initial break, leading immediately to a run of 112 from Schmidt. Harriman played safe in his next inning, and Schmidt proceeded to spear a long shot in the corner and run another 42.

Trailing 164 to -1, Harriman fought back in impressive fashion, firing off runs of 130, 122 and 101 en route to a commanding 400-255 victory.

Play continues Saturday evening with a race-to-10 set of one-pocket, leading to a race-to-30 10-ball set scheduled for Sunday. The entire contest can be viewed live at www.theactionreport.com.