Headstring News
Schmidt Evens Score with Harriman
May 4, 2008, 4:53 PM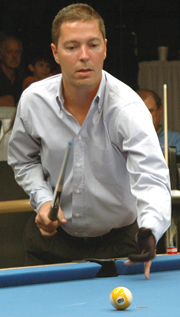 Schmidt ran nine balls in the deciding frame to set up his 10-9 victory.
John Schmidt evened the score with Danny Harriman in a hill-hill barnburner on Saturday at the $20,000 Action All-Around II, setting up a deciding race-to-30 set of 10-Ball at the multidisciplinary two-man challenge on Sunday.

After a 400-255 clobbering by Harriman on Friday in the straight-pool portion of the weekend event, Schmidt needed to win a grueling race-to-10 one-pocket set on Saturday to have any hope of contending for prize money.

On Saturday evening, Schmidt jumped out to a 5-2 lead over Harriman, but soon watched his advantage evaporate. Once Harriman took a 6-5 lead, the two players traded racks right up to the deciding frame at 9-9.

Harriman jumped out to a 5 to -1 lead, but the players soon became tangled in an intricate web of safeties and intentional fouls. After the exchange, Harriman led, 3 to -2, but he then made an error on a safety which allowed Schmidt an open look at the table. Schmidt proceeded to run nine balls and reach the hill.

The players traded safeties for several innings before Harriman left Schmidt a look at a two-rail bank. Schmidt took a deep breath, speared the shot and watched as the ball slowly rolled in the pocket and the crowd exploded with cheers and applause.

"I am going to find a job, because this is just too tough a way to make a living," Schmidt joked afterward.

Contest rules mandate that if the players split the first two events, the entire $20,000 prize fund will be on the line for Sunday's 10-ball set at 6 p.m. CST. The Action All-Around II, taking place at Side Pockets in Kansas City, Mo., can be viewed live at www.theactionreport.com.