Headstring News
Schmidt Tops Harriman at TAR All Around
May 6, 2008, 8:16 PM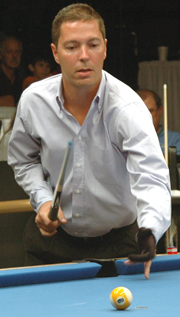 Schmidt dominated in the last night of the Action All Around.
At the second Action All Around, produced by TheActionReport.com, John Schmidt defeated Danny Harriman in 10-ball, which was the final leg of a three-day event, to win $10,000.

Held May 2-4 at Side Pockets in Kansas City, Mo., the Action All Around had Harriman and Schmidt compete in straight pool, one-pocket and 10-ball.

On the opening night, Harriman put together three runs of over 100 balls to take the 14.1 event by a final score of 400-255.

The following evening, Schmidt prevailed in an epic one-pocket match. The two met on the hill in a race-to-10. In the final rack, Schmidt ran nine balls to get on the hill, one shot from victory. After a few innings of safety play, Schmidt went for a two- rail bank, watching the ball slowly roll into the pocket as the crowd erupted.

According to the conditions of the All Around Challenge, if the two split the first two competitions, the final 10-ball race-to-30 would be played for the entire $20,000.

From the start, Schmidt was in control with the cash on the line. He opened up a double-digit lead and coasted to a an easy 30-18 win over Harriman.

For more information on upcoming challenge matches, go to www.theactionreport.com.