Headstring News
Davis, Lin Capture Korean Nationals
May 8, 2008, 6:42 PM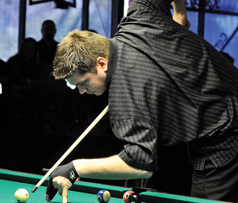 Davis finally showed his full speed in Asia. (Photo by Rick Schmitz)
At the Korea Pro Tour Championships, the last player to arrive at the Novotel Hotel was also the last to leave the field.

Mike Davis jumped on a flight bound for Seoul, South Korea, after finishing third at the UPA Desert Shootout in Tempe, Ariz. He barely made it to the arena on time, but the road warrior shook off the jetlag and ran through the field to take the title.

In the women's side of the KPT Championships (held April 28-May 1), Taiwan's Yuan Chun Lin faced little resistance on her way through the bracket. Lin, who won the Amway World Women's Championship just weeks earlier, beat Korean star Eun Ji Park, 7-2, in the semifinal, then Mika Muneta of Japan in the final, 7-4.

Davis benefitted from two forfeits and a bye in the early rounds. In the semifinal, he topped Filipino Ricky Zerna, 8-4. Davis then squared off with Jundal Mazon, another up-and-coming player from the Philippines.

Thanks to some nifty jump shots and tight position play, Davis maintained a small lead throughout the match. He eventually closed out the title match by an 8-5 margin.

"I always put pressure on myself in Asian events," Davis said. "I practice hard and try really hard, then I perform bad. But this time I wasn't preparing and I wasn't even sure if I would make the event in time, so I had no expectations. Then I played great, and here I am with the win."