Headstring News
Viking Tour Signs 10-Year Deal
May 9, 2008, 4:18 PM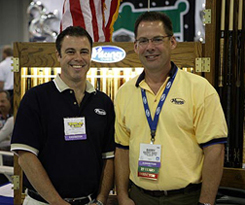 Janis (left) secured sponsorship for the Viking Tour through 2018.
According to a May 1 press release from the Viking Cue 9-Ball Tour, the regional tour has secured sponsorship for the next 10 seasons.

Mike Janis, founder of the Viking Tour, has agreed to a 10-year deal with Viking Cue Manufacturing that will provide the tour with $1 million dollars in sponsorship and support.

ôViking Cue has always supported tournaments and players throughout the country with sponsorships and is proud to be associated with Mike Janis and the Viking 9-Ball Tour," Viking Cue Mfg. VP Barry Hart said. "Viking believes industry sponsorships and investing in the promotion of our sport through tournaments is good for the future of pool."

For Janis, the deal will allow the Viking Tour to attract new rooms and more events in the next decade.

"Vikings sponsorship has allowed us to distribute millions of dollars in prize money to the players over the years along with relieving most the associated costs to room owners that host the tour events," Janis said. "I am really excited about the next 10 years with Viking Cue as our title sponsor."

For more information on the Viking Cue 9-Ball Tour, visit www.vikingcue.com/9balltour.htm or call (800) 200-7665.