Headstring News
Lion Wins World Pool Masters
May 12, 2008, 6:09 AM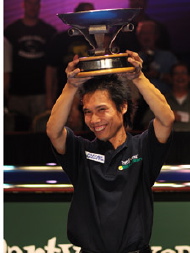 LAS VEGAS, Nev. – Alex Pagulayan scrambled through five consecutive racks to come from behind and steal the title match of the PartyPoker.net World Pool Masters on Sunday night at the Riviera Hotel and Casino.

"I feel like I did when I won the World Championship," said Pagulayan, who flexed his biceps and performed the "running man" dance for cameras directly after sinking the final 9 ball.

"I think I've finished in every place here except first," he said. The diminutive Filipino was a finalist in the Masters in 2006, but lost to Ralf Souquet.

Trailing 6-3 against Mika Immonen in the race-to-8 final, Pagulayan was able to get back to the table when his opponent failed to send the required number of balls past the headstring on his break. Pagulayan then went on a tear, running that rack and the next three to take the lead, 7-6.

In his semifinal match vs. Francisco Bustamante, Pagulayan had finally figured out how to break in balls consistently on the stingy Gold Crown V table. But in the case game of the final, he scratched on his newly patented cut break, giving Immonen a badly needed lifeline. The Finnish 9-ball star sank the 1 but applied too much power to the backspin stroke, drawing the cue ball all the way downtable and into the corner pocket. Pagulayan then ran out for the $20,000 win.

"Maybe I played a bad shot there," Immonen said. "I actually was trying to draw the cue ball into the 2, but I hit it too hard."

It was a disappointing end for Immonen, who himself went on an impressive run in his semifinal match against 18-year-old Taiwanese wunderkind Ko Pin-Ye. Playing immaculate patterns with perfect speed, Ko was looking like the favorite to win the Masters when the wheels suddenly came off. As Immonen regained his focus after several early-match slip-ups, Ko totally lost control of the cue ball and botched his safeties. Within minutes, Immonen had won six consecutive racks for an 8-4 victory.

Likewise, Pagulayan posted a convincing win over countryman and good friend Bustamante in the other semifinal. With the score knotted 4-4, Bustamante missed a couple key shots that allowed Pagulayan to take a 7-4 lead. The capper was a missed cross-corner bank on the 4 in the 12th game that left Pagulayan a clear path to a runout and 8-4 victory.