Headstring News
Predator 10-Ball: Filipinos Advance, Van Boening Upset
May 15, 2008, 11:26 AM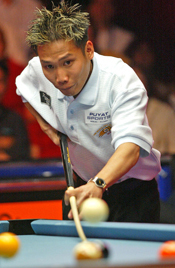 Pagulayan hopes to keep his winning streak alive.
At the Riviera Hotel & Casino in Las Vegas, the Predator International 10-Ball Championship has completed the first two days of play.

The first of the two-and-dones have been sent packing, while the winners' side is being whittled down to the final 16 unbeaten players.

The biggest surprise from day two was a surprising hill-hill upset of defending champ Shane Van Boening. Mexico's Ernesto Dominguez edged the American star, 10-9.

The loss in the second round came one day after Van Boening dropped a race-to-100 match to Alex Pagulayan. Already gaining a reputation for an inexhaustible motor, Van Boening lost the three-day challenge match put on by TheActionReport.com to Pagulayan, 100-94.

While Van Boening will have a long trek on the left side if he hopes to defend his title, Pagulayan won his first match at the Predator-sponsored event, moving past France's Stephan Cohen. The Lion, who just last week won the World Pool Masters, will face Charlie Williams on Thursday afternoon.

Interestingly enough, a few of the international headliners will face American challengers in the third round. Efren Reyes will face John Schmidt; recently crowned world 8-ball champion Ralf Souquet will square off with Gabe Owen; and Rodney Morris is set to battle Filipino Jose Parica.

The Predator International 10-Ball Championship will run through the Saturday, with the semifinal and final matches set for Saturday afternoon. Full results and live scoring are available at www.predator10ball.com.