Headstring News
Predator 10-Ball: Winners' Side Down to 8
May 16, 2008, 4:27 AM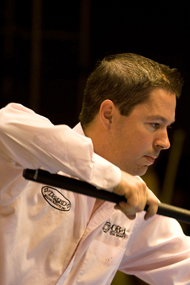 Schmidt (above) made easy work of Owen. (Photo by David Thomson/Medium Pool)
LAS VEGAS, Nev. - At the conclusion of play on Thursday night at the Predator International 10-Ball Championship, eight players remain unbeaten, punching their tickets into the single-elimination field of 16.

The championship - held at the Riviera Casino & Hotel through Saturday - began with a field of 96 players from 23 countries. The eight who remain unblemished reflect the global flavor of the event. The Philippines is the only country with two representatives, with both Francisco Bustamante and Lee Van Corteza.

John Schmidt is the only American to advance via the right side. He posted a string of impressive wins over German Nicolas Otterman, Efren Reyes and Gabe Owen.

Reigning world 9-ball champion Daryl Peach advanced with wins over Aruba's Richard Wolff, Thorsten Hohmann and Marcus Chamat.

The other half of the 16-player single-elimination bracket will be determined on Friday, when left-side matches begin at 10:30 a.m. (Pacific Standard Time).

Allison Fisher is the lone female still in the field. The top-ranked WPBA pro posted two wins on the left side, including a thrilling come-from-behind victory over David Alcaide of Spain. Down 9-7 in a race-to-10, Fisher collected the final three racks to advance.

Live scoring and full results are available at www.predator10ball.com.