Headstring News
Final Four in Place at Predator 10-Ball
May 17, 2008, 3:06 PM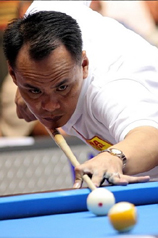 Bustamante battled Van Corteza in the quarterfinals.
LAS VEGAS, Nev. - As clock approached midnight at the Predator International 10-Ball Championship, Tony Drago went through his final rack as though he was running late for a red-eye flight out of town. In the case game against Alex Pagulayan, the big man from Malta had an angle on the 1 and buried it. He then raced through the rest of the rack to post a dramatic 11-10 victory.

Pagulayan, who had dismantled John Schmidt in the round of 16, looked to be in control against Drago with the break and a 10-8 lead. Drago, though, won the next two to force the do-or-die rack.

"I knew that I could come back," he said. "Even against someone like Alex, if I could get to 10-9 with the break, I had a chance."

Drago will face Sweden's Marcus Chamat in the semifinals, scheduled for noon and 2 p.m. (Pacific Standard Time). Chamat may have the most impressive list of victims. In the round of 16, he easily handled Niels Feijen, the top-ranked player at the start of single-elimination play. Chamat then ended Shane Van Boening's bid for back-to-back titles, 11-7.

The other semifinal will feature Francisco Bustamante and Jeremy Jones. Bustamante narrowly escaped his first match of the day against American Robb Saez, 11-10. He then dispatched countryman Lee Van Corteza, 11-6.

Jeremy Jones had little resistance in his path to the final four. He topped Raj Hundal, 11-4, and Tyler Edey, 11-7. The former U.S. Open Champion is hopeful to add another big title to his resume.

"I've won six or seven of these big professional tournaments," he said. "But behind the U.S. Open, this would be a big one."

The final is scheduled for 6 p.m. Live scoring and full results are available at www.predator10ball.com.