Headstring News
Bustamante, Drago in Predator 10-Ball Final
May 17, 2008, 7:23 PM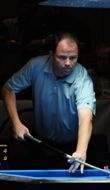 Jones run ended in third. (Photo by JP Parmentier, kozoom.com)
LAS VEGAS, Nev. - The final match of the Predator International 10-Ball Championship is set. Francisco Bustamante, the number-two overall seed at the start of the tournament, will face Tony Drago, who wasn't among 32-seeded players.

At the grand ballroom in the Riviera Casino & Hotel, the two semifinal matches introduced a 30-second shot clock for all shots after the break. In the first semifinal, Sweden's Marcus Chamat looked to have some difficulty adjusting to the pace of the clock. Drago, meanwhile, never even heard the 10-second warning.

The snooker pro from Malta is known for his unbelievably quick pace at the table, but stuttered early in the match. Chamat built a 7-5 lead, while both players tried to get accustomed to the conditions on the TV table.

Drago was the first to settle into his surrounding. He won the final six racks for an 11-7 victory, securing his spot in the final - scheduled for 6 p.m.

Not necessarily known for a powerful break, Drago displayed some incredible shotmaking and position play.

The second semifinal saw Francisco Bustamante pull away from an uncharacteristically tight Jeremy Jones. The American also had difficulty with the shot clock and conditions. Bustamante, meanwhile, took advantage of every misstep. Falling behind 2-0, the Filipino star won five straight, including three combos on the 10 ball.

On the hill at 10-4, Bustamante hooked Jones, forcing a foul. He then lined up a winning 1-10 combo into the side pocket.

The Drago-Bustamante match will be a race-to-13 with the 30 second shot clock. Live scoring and brackets are available at www.predator10ball.com.