Headstring News
Stars Align in Support of BEF
May 26, 2008, 10:32 AM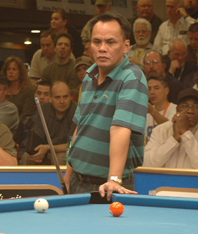 Bustamante chipped in to help the cause.
The Billiard Education Fund (BEF) held their annual "Challenge the Stars" charity event on May 13. With the help of 13 pros and plenty of amateur challengers, the BEF successfully raised more than $4,000 to support the junior billiard programs and scholarships.

Held May 13, alongside the amateur BCA Pool League National Championships and professional Predator International 10-Ball Championship in Las Vegas, the challenge event attracted stars like Allison Fisher, Francisco Bustamante, Efren Reyes and Thorsten Hohmann.

All proceeds benefit the BEF in providing various junior programs and scholarships.