Headstring News
Immonen on the Internet
May 30, 2008, 5:30 PM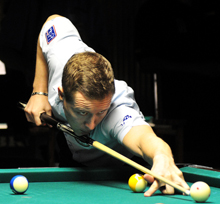 Immonen (top) recently finished second at the World Pool Masters.
With a new blog that recounts the triumphs and trials of a professional pool player, Mika Immonen is giving fans a chance to peek behind the cool, confident Iceman.

Immonen is one of the most consistent professional players in the world today. A former world 9-ball champion, Immonen provides updates about his travels and tournaments at www.icemanmika.blogspot.com.

Even other top players have taken notice.

"I believe all players can learn something from Mika's blog as he writes about his own experiences," said Thorsten Hohmann. "In my opinion, he is a very modern player. I follow his blog myself, so I suppose you can say I'm a Mika fan."