Headstring News
BCA 9-Ball Events Underway
Jun 9, 2008, 12:12 PM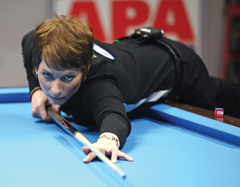 Hofstatter (top) faces Kelly Fisher in her fourth-round match. (Photo by Ashi Fachler)
The WPBA Classic Tour kicked off its second event of the year on Friday. The BCA-hosted GenerationPool.com 9-Ball Championship began at the Smokin' Cue in Charlotte, N.C., with 64 players.

Entering play Monday afternoon, 24 women remain — eight on the winners' side and 16 in the one-loss bracket.

The usual suspects remain unbeaten after three rounds, including top-ranked Allison Fisher, who survived a 9-7 match against Ewa Laurance. Gerda Hofstatter, currently ranked second after a runner-up finish at April's San Diego Classic, cruised in her three matches.

Ga Young Kim will face Xiaoting Pan on Monday. Pan posted an impressive 9-1 win over Austrian star Jasmin Ouschan, who is still alive on the left side.

In the men's event, the 32-player field has been drawn. First-round action is set to begin on Monday.

Interesting early match-ups include Americans Rodney Morris against Charlie Williams, Gabe Owen facing Thorsten Hohmann of Germany, and Corey Deuel versus Charlie Bryant.

The finals of the GenerationPool.com event are scheduled for June 12 at 7 p.m. Both the men's and women's events are being held alongside the BCA International Billiard & Home Recreation Expo — June 11-14 at the Charlotte Convention Center.

Between the women's and men's final matches, Pat Fleming and Allen Hopkins will be inducted into the Hall of Fame.